Asia CrossFit Championship: Day 2 Recap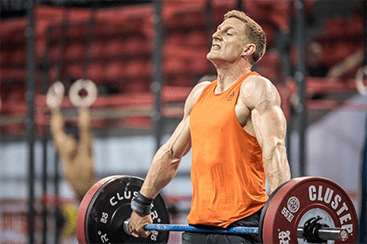 photo: @supercleary
Alright, folks! Day 2 at the Asia CrossFit Championship is done.
There were two events today. Final day tomorrow will have another two events, for a total of six. I woke up feeling pretty refreshed. Had a good breakfast at the hotel in our kitchen and spent the rest of the morning relaxing, lightly stretching and watching some NBA highlights on YouTube.
I walked a block to the venue to begin my warm up for Event 3 which was called the Concept 2 Triathlon. Time cap was 35:00. It included a 6km bike on the C2 bike erg, followed by 4km row, finishing with a 2km ski. The set up on the floor was quite cool. They had 28 athletes going at once. All the machines packed quite closely together, so the transition time between the machines was very minimal. I was close enough to the competitors on my left and right to see the paces they were holding on their screen.
To my left was Ant Haynes who I knew would do quite well in this event, however, I knew that likely my biggest competition would be Kristof Horvath who was quite a distance away from me. All I could do was hope that the announcers would keep me up to date on his paces, or as he accumulated meters. I began my warm up a little too late today, which is a mistake I rarely make. Unfortunately, the day was running a bit ahead of schedule. We didn't pay close enough attention to detail, causing my warm up to be a little short. In an event like this, that's not a huge issue as the first 6km on the bike is really a sufficient warm up. Ideally, a little more time prepping would have been good. I was not alone in this rush warm up. Many other athletes I could tell were expecting it to be running on time, but running ahead of schedule is really a good problem for an event to have. It should be on us as athletes to keep up with that. I'd rather have an event run slightly ahead of schedule by 5-10 minutes than behind.
Event 3 began, and for the first kilometre or two, I made a bit of small talk with Ant. He joked "this is going to end in another kilometre, you know that right?" and I said "yes, I do" at which point we focused on our screens and keeping to the pace we had planned. I was slightly ahead of Ant's pace on the bike and would continue to hold a slight edge on him on all the machines.
Really, I was trying to gauge what Kristof Horvath would do on the machines and hope that I could be the first athlete to the SkiErg and have a little more in the tank at the end of the workout. I thought it would be possible he could beat me off the bike which I was okay with, as long as it was not more than a few seconds.
Sure enough, he was the first to the row. I followed close behind. My bike pace was 1:44.5/1km which I was happy with. On the rower, I knew this was where I would be able to create a lead that was hopefully insurmountable by the other athletes in the field. I was able to hold on average a pace of 1:43.6/500m. This was a pretty aggressive pace and I was happy to be capable of holding it. We've been putting a lot of work on the rower these last few months, primarily for it to help my conditioning for more traditional CrossFit workouts. However, the familiarity on the machine obviously helps when competing with a rowing machine. As the row dragged along, I could hear the announcers telling the crowd the distance I was at. Shortly later, they would inform the crowd of the distance that Kristof had accumulated. I began to realize that I had a lead on him and as I peeked over the best I could, it didn't seem he was going to have a big kick to finish the row. I knew if I stayed on the pace that I had, I would be able to maintain this lead. The initial plan I made with my nutritionist was to have a drink of water as soon as I finished the row, leading into SkiErg to keep my hydration up as it was fairly humid in the stadium. With all that work, I was sweating quite a bit. However, I didn't want to lose those valuable seconds on the transition because I knew that the first 500m of the SkiErg would feel quite easy. Although I was obviously tired from holding an aggressive row pace, and because the SkiErg is a very different movement, engaging very different muscles, you're able to ski quite fast for a minute or two before the fatigue catches up to you. I didn't want to lose those valuable minutes drinking water, so I decided that at the 3km mark in my row, I'd take 5 extra hard strokes, quickly, to grab the bottle with my right hand to weakly row for two strokes with my left hand. Then throwing the water bottle on the ground and doing five extra hard strokes to maintain my pace. This worked well, although I did splash water mostly on my face and not as much into my mouth as I would have liked. After the workout, I was talking with Ant Haynes who was next to me in the event and he happened to peek at my rower during these fast five strokes and thought "Oh my goodness, Brent is going so fast," but once I drank my water bottle he realized that it was temporary increase in pace and not something I was able to maintain.
When I got onto the SkiErg I tried to mostly focus on my own monitor, holding what I thought would be a pace no other athlete would be able to catch me as I already had a lead going into the ski. The announcers were also keeping track of my meters as well as Kristof Horvath's meters. I was able to hold this pace consistently which allowed me to win the event without too much of a final sprint. My final pace was a 1:44.0/500m. I believe my final time on this workout was 31:23.
Afterwards there was enough of a break that I quickly cooled down, took a few photos with some fans that were patiently waiting. I went back to the hotel where I had a nice shower to clean off all the sweat, relaxed, did a little extra recovery with my SideKick Tool and some other devices I have on hand and tried to just calm down in general before coming back to the venue in a few hours.
When we got back to the venue, we headed to the competition floor to see how the Event 4 would be set up, and went directly to the warm up area. Kept a close eye on the schedule and the timing of the athletes to ensure that we would not be late this time. They were right on schedule so there were no issues. I did an extended warm up for this workout knowing I wanted my hips, knees, shoulders, elbows, all my joints and muscles to be very prepared for what was probably the most complex workout of the weekend.
The final workout of the second day for Event 4 was 3 rounds for time of 7 thrusters at 165lb, 15 ring muscle ups and 10 power snatches at 165lb. This a total of 45 ring muscle ups, 21 thruster and 30 snatches. The limiter in this workout for myself, and most athletes, was the high amount of ring muscle ups, but the barbell work definitely played a large factor in your fatigue and your finishing score. My plan was to break up the movements from the start into smaller sets and take smaller breaks, hoping I would be able to hold a more consistent pace than if I was to take larger sets and then breakdown more in the later rounds. I knew that shoulder fatigue in the muscle ups would likely be my limiter so I wanted to decrease large sets earlier in the workout. This worked well, although I think I was hoping the workout would go a little better than it did. I definitely was more fatigued in that final set of muscle up's than I would have liked but I'm sure most athletes would say the same in hindsight. Probably not something I could have changed today, but an area my coach and I will be focusing on in the coming months.
During the second set of muscle ups, the head judge approached me and said there was a lane open, three lanes over that had slightly higher rings. The rings in my lane were an acceptable height, however I was having to change my technique slightly as they were a little low. So, I decided after another set of muscle up's I would need to take a bit of a longer break anyways, so I briskly walked over to the other lane that was open with the higher rings and began my next set. I was able to perform the muscle up's a little better, I think. After the workout, Ant Haynes asked me "Where did you go? You were right beside me then you just left and I thought maybe you had quit,"
Overall the workout was quite a bit of fun. I finished my 15th muscle up in the final set and tried to hurry to the barbell to finish my final 10 snatches. I was able to catch a few athletes on those final 10 snatches that were a little bit ahead of me when we got to the bar. It's always nice to finish strong in a workout like that and catch up to a few of your peers. Oh, and Zeke Grove in Event 4 absolutely annihilated all of it, he is pretty insane on the rings.
After the workout was finished I got to the cool down area quickly so I could make sure I was well recovered. Again, I took a bit of time after the workout was done to take some photos with fans. I had a really good debrief with my coach, Nick Fowler about how the workout went, what we would have done differently today but just as importantly, how we can improve upon a workout like this later in the season or in the next 2-3 years. When I talk to people about competition, and I've even mentioned this in The Professor Project, after completing a workout there are sort of two things you need to consider: 1. What could you have done differently today to improve your time sightly? 2. What do you need to do in training for the next few weeks/months/years so that if that workout comes out again you'll get a much better score? Both are important questions to answer, but I think the second question is the more important of the two when you're looking at real athletic progress.
Overall, another good day. I really enjoyed competing and I got a little bit of extra time to watch the Women's comp and the Teams which was fun to see. I'm told that the final day of competition on Monday is a public holiday all across China, so the event should be busy. The two final events on Monday are going to be pretty fast and explosive, so I think from a spectators standpoint, they'll be pretty excited to see what the athletes are capable of.
Hope you enjoyed reading this and getting insight into how the competition went. Still sitting in first place after Day 2.
Looking forward to giving everything I have in the final day of competition here in Shanghai.
Get my training, nutrition, and mental toughness insights all year long with my Weekly Recaps.

Join the Weekly Recap for free here!