Asia CrossFit Championship: Day 3 Recap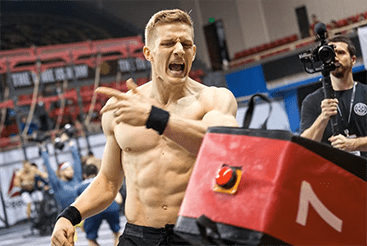 photo: @holixgraf 
Alright, Day 3 at the Asia CrossFit Championship, the final day, is done! For those of you who don't know the end result, I won't spoil it and I'll just play out the day as it happened.
It was overcast and raining for most the day, which meant that the warm up area was a little damp as it was outside, however covered. I think because of the poor weather the amount of spectators attending were a little lower than expected. This was unfortunate, however, the stadium was still pretty full and the crowd was great.
I woke up feeling energized, I had probably more energy than I had at the beginning at Day 2. I was especially excited for the first event as I had an opportunity to practice a part of it about a week ago when it was announced. The full event was 4 rounds for time of 2 legless rope climbs and a handstand walk. Each round, the handstand walk increased in distance, starting at 10 meters, then 20, 30, then 40. So in total, you were walking 100m on your hands and doing 8 legless rope climbs. I had a really solid warm up and felt energized going into this event.
As I walked out onto the floor, I noticed who my judge was. I remember see her judge an earlier heat in the teams and she was quite strict in their movements. I made a note to be very careful to properly cross the line on all my handstand walks and also make sure that all my legless rope climbs were clearly to the desired height so that I didn't receive any costly no reps.
The event started and I was pretty happy with my pace. I kept just ahead of the competitors nearest me in my lane, including Ant Haynes, Kristof Horvath and Josh Woodhull. Josh was now in the second place position, so he was my closest competitor to potentially taking away the first place spot. The announcers were focusing on these four middle lanes and I was able to gain a lead on them in the final round. On the handstand walks, I was a little conservative making sure I just started each round as the other athletes were about to finish each of their 10m sections, so that I would just barely squeeze them out for the win in that event. However, I wasn't aware and neither were the announcers that in the outer lanes (1 and 13) there were two athletes setting a slightly faster pace. They were both able to beat me. Unfortunately on my very last handstand walk, I crossed the line with my left hand, I successfully crossed the line with my right hand. My right hand was just outside the lane barrier. My judge saw that, gave me a no rep, forcing me to complete a 5m segment again. It was a frustrating call, but the right call. The lanes were quite narrow, probably a bit narrower than I'm used to at Regionals and the Games. I wasn't focussing hard enough on the final rep to ensure I stayed within the lane. This mistake likely cost me a second place finish in the event. Because of the mistake, Josh Woodhull I think edged me out as well as the competitors in lane 1 and 13.
I finished the event with a pretty solid time. I was a little upset with the no rep, and the fact that I held a little too much in the tank to conserve a good score instead of focusing more on my own lane to maximize my own potential (which may have been enough for first place in that event). However, the three athletes did so fair and square. Props to them for executing their game plans and getting more points than me. The unfortunate thing is the leaderboard doesn't care what you could have done, it only cares what you did.
I had a good cool down, I was excited to finish the weekend on the positive note. My coach and I checked the leaderboard. I still had a fairly comfortable points lead over the other athletes. Josh Woodhull maintained his second place position by about 9 points. So going into the final, I knew that my best effort would be enough likely to secure a first overall position. If Josh was able to beat me in that event, he would require about 8 athletes to be in-between myself and him. Having him in the lane next to me gave me quite a bit of confidence to ensure that we would be able to keep a similar pace, or to be ahead of him. I re-fuelled and ate a lot of food – or as much that was needed based on my nutritionists advice.
The final event was a sprint with a 50 calorie Assault bike sprint directly into 20m into overhead walking lunge. The lunge required you to hold a 60lbs dumbbell in each hand. This requires a high degree of overhead stability, which I knew I would have an advantage on over most of the field – having trained this type of movement often, and having strong flexible shoulders. In the warm up area I could tell many of the athletes were going to struggle far more than I would. I've always been quite good on the Assault bike.
As the event started, I was calm and excited to finish off the weekend on a high. I started pretty fast on the bike for a good 20 sec kick, then cruised into an uncomfortably comfortable pace. I believe I finished the bike in just over one minute. As I walked to the dumbbells, it was just myself and another athlete who'd finish quite ahead of the rest of the field. I allowed myself to take a bit of a break before grabbing the dumbbells and lifting them overhead. I knew my pace on the lunges would likely beat the his. I also knew the times in the previous heats would be much slower than my own as I briefly glanced at the clock. Once I got the dumbbells overhead, it took me about 17 steps to clear the 20m. It felt quite easy. In hindsight, I wish I grabbed the dumbbells a bit sooner. Finishing the lunge at the 20m mark, I held them overhead for a little extra time for the crowd. Hit the finishing buzzer and kicked it over as I was quite excited to have punched my ticket to the 2019 CrossFit Games.
With that even finish, I won 4/6 events of the weekend and had two other strong placings. It was really nice to get to spend some time chatting with the other athletes and congratulating them. I was especially impressed with Kristof Horvath. We have similar builds being taller athletes, and he is about 4 years younger than myself. I could tell how much effort he puts in to his competition experience. It was a real pleasure getting to compete alongside him. I was also really proud to share the floor with Ant Haynes (having met him a few years prior) and congratulated Josh on his silver medal as well (travelling a long distance from America to compete here in China). After the competition wrapped up, it was a little chaotic taking photos with fans for a good amount of time and signing autographs, even though a part of me just wanted to spend time with my wife. But, I'm grateful to have so many awesome fans from all around the world who took time out of their day to watch me compete and do what I love.
The award ceremony was nice. I got a cool medal, and a cool belt. Overall, I think I mentioned in my previous mind dumps, I was really impressed with this competition and how well it ran. For the rest of the night, the plan is to meet up with some of the other athletes, have some food and maybe a few drinks. I likely won't drink too much alcohol as I want to make sure I recover well from this weekend. Maybe I'll sneak in a few beers when I get home to Kelowna.
Fortunate to have another two days to spend here in Shanghai which will be fun to finally see some of the city as I spent most of my time preparing for this competition to ensure I was able to execute to my abilities. Thanks everyone for reading these mind dumps. I hope it gave you a bit of insight into the weekend. If you weren't able to tune into the live stream, or wanted to hear a little bit of the behind the scene action. Really excited to punch my 4th ticket to the Reebok CrossFit Games. After hitting that buzzer in the final event it felt like it was just the beginning of my season. I feel like I have a lot I want to improve on both physically and mentally in the next few months. I think I'm enroute to the best season I've had so far in this sport. It's pretty wild I've been doing this now for almost 7 years and I still have so much more to learn and experience. Pretty cool that looking back 7 years ago, I wouldn't believe that I would be competing in China and have fans that are excited to meet me.
Anyway! I gotta run. See you all on the world wide web.
Get my training, nutrition, and mental toughness insights all year long with my Weekly Recaps.

Join the Weekly Recap for free here!