Early Years
I grew up on the Alberta prairies in the city of Lethbridge. My parents kept me busy as I focused on my education, learning the guitar and competing in a variety of sports. I swam every summer from the age of 6 to 18 for four months as part of the Lethbridge Summer Swim Club. When I was 17, during the summer of 2008, I broke the provincial record for the 100 meter breastroke, a record that still stands today. During the winter months I played a lot of different sports but by the time I was in High School at LCI I narrowed my focus to volleyball during the school year. I was fortunate to be involved in a successful indoor volleyball program at LCI, during my grade 10 year I watched as the senior team won a silver medal at division 1 provincials. The next year I started as a middle blocker and we went on to win provincials, going undefeated over the entire season for a record of 59 wins and 0 losses. As a team we were inducted into the Lethbridge Sports Hall of Fame for having the perfect season. The next year I was the captain of the team and we went on to win silver at provincials.
I graduated from LCI High School in 2009 and continued my education at Lethbridge College to become an Accountant. I studied for two years to receive my business administration diploma with a Major in Accounting. I received a scholarship to play for the Men's Kodiak volleyball team while I was there. We had two solid teams that made the provincial tournament but were unable to make it into the semi-finals of the competitive league each year.
The move to Australia
An opportunity presented itself and I decided to move to Australia to finish my education. I worked for ten months to save enough money for the trip and left the country in January of 2012. I attended Griffith University Gold Coast to complete my Bachelor of Commerce degree with a major in accounting. While I was at the University I competed on the Queensland AA Beach volleyball circuit on the Gold Coast where I won the state silver medal.
I also competed for the Griffith University Gryphons Indoor Men's Volleyball Team while in Australia. We won the 2012 Northern University Games, 2012 Australian University Games, and the 2013 Northern University Games going undefeated in each of the three tournaments.
Although I was first introduced to CrossFit style training by my volleyball coach at Lethbridge College, the first CrossFit gym I joined was CrossFit Broadbeach in April of 2012. I signed up to improve my fitness for the upcoming volleyball season and committed to attending every morning class six days a week. During August of 2012, I attended my first competition; the CrossFit CrossAxed Semper Paratus Challenge. I finished fifth at the event, and after some thought decided to focus my training towards CrossFit instead of volleyball. During the rest of 2012, I went to a lot of competitions in the state of Queensland. I attended three of the Again Faster All-Star Team Series events, and three WODStock events as an individual competitor. In January of 2013, I competed in my first weightlifting meet hosted by Commonwealth Games gold medalist Ben Turner. It was called "Barbell Brutality", the event had a snatch, clean and jerk, and back squat. I think my lifts were 95kg, 125kg and 150kg respectively. Later that month I won the finale of a four-part Competition Series called WODStock in Brisbane. Even though the event was cut short due to a rain storm, I enjoyed getting to compete for the first time in front of my girlfriend Claire Rostron.
My 2013 Crossfit Campaign
In March of 2013 I competed in my first CrossFit Open with my sights set on qualifying for Regionals. I had a mediocre start with 13.1, but the next event 13.2 was right in my wheelhouse with high rep rebounding box jumps. I finished the 2013 CrossFit Open 130th worldwide and 7th in the Australia Region. I was on my way to Regionals for the first time!
I continued training at CrossFit Broadbeach with coach Drew Griffith as he helped me prepare for regionals in May of 2013. Day 1 in Wollongong went exactly according to plan until the 30 burpee muscle-ups for time. After a few reps, my triceps started to fatigue but I still managed to finish under the time cap even if it was 60 seconds slower than I had practiced. Day 2 was a big success. I did well in the 100s chipper and, even though 315lb deadlifts were very heavy for me, I survived event 5 with a pretty solid score. Day 3 started with an event in my wheelhouse that ended with front rack walking lunges. I was inches away from winning the event but Rob Forte passed me at the finish line. I was headed into the final event ranked fourth, one spot behind Brandon Swan who was in the last qualifying spot to the Games. I knew I would struggle on the last event so the podium and a ticket to the CrossFit Games was out of reach. I did my best but after Event 7 I slipped to 6th place overall. I was still very happy with my result and the effort I gave over the weekend.
Right after Regionals I began playing volleyball again to help my team win Northern University Games. I didn't take enough rest after the CrossFit season and quickly developed patellar tendonitis in my left knee. I finished my University degree, flew back to Canada and in the fall of 2013 I found an accounting job in Kelowna, BC. I moved to British Columbia and began my new career. I trained very early in the morning alone at CrossFit Okanagan before going to work.  With the guidance from my new coach, Raw Strength and Conditioning, I avoided anything that gave my knee pain and focused on developing strength in my posterior chain and upper body.
My 2014 Crossfit Campaign
I was a bit concerned that I wouldn't be ready for the 2014 CrossFit Open because of how little I had been training regular CrossFit-style workouts. I was pleasantly surprised when I surpassed my own expectations and greatly improved upon my overall placing from the year before. The final event that year was 14.5; thrusters and burpees. I planned to complete the workout Friday morning and drive to Vancouver that night, to pick up my girlfriend who was flying from Australia to come and live with me in Canada. We had been apart for 8 months so I was very excited to see her again. I finished the workout completely exhausted and ready to move on with the next chapter in my life, until my friend reviewed the video. In the first round of thrusters I had completed 20 reps instead of 21. I was devastated and knew I would have to repeat the event again Sunday after picking up Claire. On Sunday I re-did the workout, it was just as painful and I got the exact same score! I finished the 2014 CrossFit Open in 38th worldwide and 2nd in the Canada West Region.
With Claire in my corner and with the opening of the new gym Kelowna CrossFit, I was very energized and excited for Canada West Regionals. I had no expectations, I just wanted to do my best and have some fun. I did just that and the weekend started very well for me. At the end of Day 1, I was in first place, having hit a 10lb hang snatch personal best at 260lb. The next day was a struggle for me because it included three of my least favourite things at the time: strict handstand pushups, high rep front squats and legless rope climbs. I persevered and was still well within striking distance of reaching one of the top two spots to punch a ticket to the CrossFit Games. Sunday morning I won Event 6 "The 50s" and my time would stand as the world record for that Regionals event. The last event was 64 pullups and 8 overhead squats at 205lb. I finished the pullups quickly, but when I got the barbell overhead it felt very heavy. I got seven overhead squats in a row but crumbled when I attempted the final rep. I attempted the last overhead squat three more times before I was successful. I crossed the finish line knowing I had missed out on my opportunity to qualify for the CrossFit Games  Although the result was not what I wanted, I still enjoyed the experience and was extremely excited for the coming year.
At the end of the 2014 summer I competed at the "OPT Outside the Box" competition in Calgary where I came second. Later in the fall I travelled to Toronto for JAKTRX's "Best of the Best" event where I placed 7th and in January of 2015, I travelled to California for the OC Throwdown. This was the largest international event I had attended. I exceeded my own expectations and came first place winning $20,000.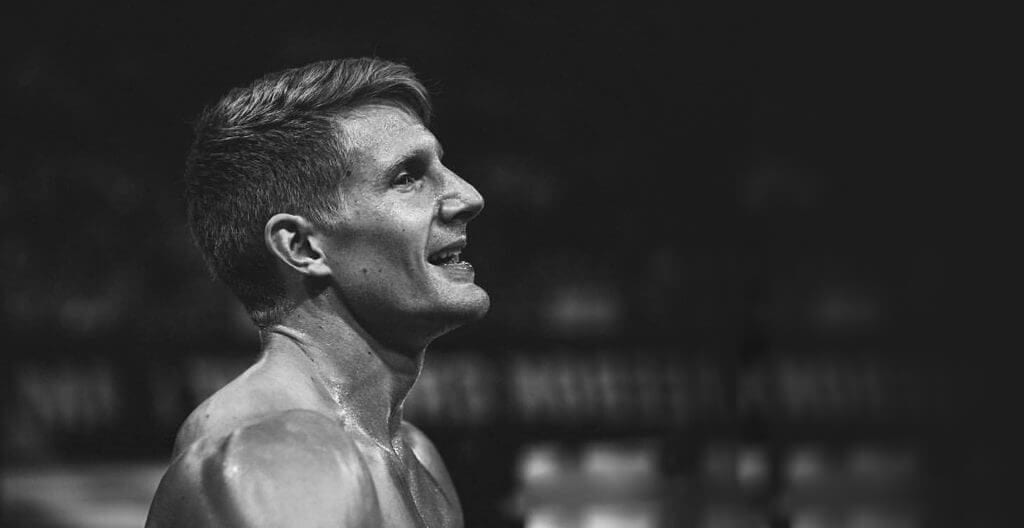 Smooth Seas Never Made A Skilled Sailor
My 2015 Crossfit Campaign
When I returned home from California I started my new job as the Financial Controller at the tech start-up, Strawhouse. The CrossFit Open started shortly after and this year I was less stressed than previous. I performed very well and qualified to Regionals again, a highlight being when Reebok flew Joe Scali, Mitch Barnard and myself to do an Open Announcement in Vancouver. Joe Scali had the worst score so we all got to throw water balloons and eggs at him afterwards. This year I finished the Open in 53rd worldwide and 3rd in the Canada West Region.
The months following the 2015 Open I was in excellent physical shape but I began to put a lot of pressure on myself. I knew that I had a very good opportunity to qualify for the CrossFit Games this year and I started to mentally stress myself out with the possibility of failing. I began to worry about how I would match up against my competitors, rather than focus on my own performance and let the scoreboard take care of itself. When the weekend finally arrived, I performed very well and was in first place overall heading into Day 3. But all that mental and physical energy I had expended on the first two days of competition and the weeks leading up to the event resulted in a poor final day. My weak strict handstand pushups limited me in Event 6, and on Event 7, I lost focus and went far slower than I was capable of. I found myself again only a few points out of a qualifying spot for the CrossFit Games.
I took this loss a lot harder than the previous year. During the summer training was going well physically, but my mind was not in it. I kept dwelling on my negative performance at Regionals and was struggling to refocus my mind for the coming year of competitions. It was only when I messaged my High School volleyball coach, Ard Biesheuvel, for advice on mental training that my attitude turned a corner. He reminded me that I needed to release my focus on the end result and only focus my mind on performing to the best of my abilities. The rest of 2015 was a fun year that was highlighted by a trip back to Australia to visit my friends and Claire's family.
My 2016 Crossfit Campaign
2016 started with a bang when I travelled to Miami to take part in The Wodapalooza Fitness Festival. I was on a team with my Canadian friends, Mitch Barnard and Albert-Dominic Larouche (ADL). The field of competitors was extremely close, but at the end of the weekend we tied for first place with CrossFit Shrewsbury. It was probably the most fun I have ever had competing in the sport.
The next event was the 2016 CrossFit Open. I placed 24th on the worldwide leaderboard, which was my highest finish to date, and first in Canada West. I again got to travel with Reebok Canada to an event. This time it was to ADL's gym in Montreal for 16.2, where I faced off against Alex Vigneault. The atmosphere in that gym was absolutely nuts during the last few cleans at 315lb.
Then once again I had completed the Open and was on my way to Regionals. This year the West Regionals was held in Portland, Oregon at the Moda Centre. I had an excellent mentality going into this competition. I was very excited and eager to put on display all the hard work I had put in the past year. From the first event on Friday to the last event on Sunday, I felt like I was on autopilot. All my mental preparation paid off and culminated in what I thought was a near-perfect performance. I executed every event exactly how I had planned, I had zero no-reps, and I wasn't mentally or physically exhausted by the end of it all. I finished in first place, winning two of the events along the way, and was finally on my way to the CrossFit Games!
After Regionals was over, I took a week to relax and prepare myself for the tough training that lay ahead of me. I would train two or three times a day, six days a week, while still working 40 hours at my job. It was very busy but I managed to stay sane through the process, knowing it would all be worth it when I was completely prepared for the ultimate test in Carson, California.
FEATURED: In 2016 Fikowski finally reached the CrossFit Games
"Trusting the process and releasing the outcome was the mentality I needed to finally reach my goal of qualifying for the CrossFit Games"
"2016 Crossfit Games (Rookie Year)"
I travelled to the CrossFit Games with a similar mindset that I had for Regionals. I wanted to perform as best as I could and enjoy the experience. I knew if I entered the week physically healthy I had the ability to finish very high on the leaderboard. The event was undoubtedly the longest and most gruelling competition I had ever taken part in; 15 events spread out over 5 days against 39 of the best men in the sport. By Friday, it felt like we had been competing for a week, but by Sunday you were wishing it wasn't over so soon. To summarize the weekend with a few sentences would be an injustice, so if you want to read about all the details you can click on these links where I went over my daily experiences: Day 1, Day 2, Day 3 pt1, day 3 pt2, Day 4, Day 5 pt1, Day 5 pt2. I performed well, had a blast, went home very sore but with the title of "Fourth Fittest Man in the World" (a few points away from beating another Canadian rookie, Patrick Vellner, for the bronze).
The Proposal & Other Cool Stuff
After the CrossFit Games was over I took some time to relax and focus on my personal life. I proposed to my girlfriend Claire and I continued to work at Strawhouse and do my part in growing the company from a staff of 7 to 30 in under a 12-month period. I was also sent an email invitation to compete in the CrossFit Invitational at the end of the year.
2016 Crossfit Invitational
I travelled to Toronto, Ontario to represent Team Canada with my teammates Michele Letendre, Carol-Ann Reason-Thibault and Patrick Vellner. We trained together for three days with our coach, Camille Leblanc-Bazinet, to prepare for the 2-hour showdown against three other international teams. The event was incredibly hectic. There were 5 events packed into a very short period of time. The hockey arena was filled with enthusiastic Canadian CrossFit fans; it was a real treat to compete in front of a home crowd that had our backs the entire competition. We finished fourth out of four teams which was obviously not the result we had hoped for, but we all had a great time. I was grateful to be a part of Michele Letendre's swan-song, who after 6 CrossFit Games appearances decided to retire from the sport.
The 2017 Season
Like last year, I began my season with a trip to Miami for the Wodapalooza Fitness Festival. I had recruited two men to be part of the three-man Zevia team. Nick Bloch, who is known for his strength, and Irving Hernandez, the bodyweight ninja. Both are multi-year Regionals competitors and played large roles on their Grid League teams. We had a fun weekend but couldn't quite make our way onto the podium finishing 6th out of 52 teams in the Elite Men's division. It was good to see many of the individual competitors for the first time in months. I felt like I had made more improvements in my offseason compared to many of my peers.
The 2017 Open started with a new experience: I went head-to-head against Patrick Vellner in the official 17.1 Open announcement in Montreal. We were given about 5 minutes from the official announcement until we had to start the event in front of a packed crowd and a live online audience. Pat got the best of me, but it was a really great event and the trip was a lot of fun. At the conclusion of the Open, I ranked 22nd worldwide and 1st in Canada West, and I had earned my ticket to compete at Regionals again.
Regionals was again held in Portland, Oregon at the Portland Expo Center. I was feeling mentally and physically ready for a solid weekend of competition. I had the confidence from last year that I had the ability to win, I just needed to give my best effort.  The weekend went by quickly, as it always does, and I found myself on top of the podium again and headed to the CrossFit Games. The highlight of the weekend for me was winning Event 3 "The Chipper" in commanding fashion and taking the worldwide event record by nearly an entire minute.
The 2017 CrossFit Games were held this year in Madison, Wisconsin. The first time the event has been held anywhere other than California. This year the competition lasted for four days and all the events were held at the Alliant Energy Center. I was very consistent all weekend, I executed each workout calmly and was able to really enjoy the competition I'd trained all year for. When the dust settled I finished with a silver medal! Like the 2016 Games, there are far too many details to summarize so I'll provide links to all my daily wrap ups: Day 1, Day 2, Day 3, Day 4 pt1, Day 4 pt2.
After the Games
I returned home to Kelowna two days after the Games concluded and got right back to work with Strawhouse. After being away for nearly two weeks, I had a lot of catching up to do. However, I had quite a few events planned that kept me from staying grounded in Kelowna for too long. The first trip was to my hometown of Lethbridge, Alberta. Back in 2007, my high school volleyball team went undefeated all season with a record of 59-0 to win the Division 1 Provincial Championship. We celebrated the ten year anniversary by playing a game and having a barbecue. It was great to dust off the knee pads again!
After that trip, I only had a few weeks to prepare for my wedding. With Claire and my families being split between Canada and Australia we decided to elope with four of our close friends in Bali, Indonesia. It was an incredible week-long getaway that was perfect to re-charge after a busy year.
A surprise event took me to California for a few days: Zevia invited me to speak at their Annual General Meeting in early October! This was a very great experience, speaking in front of such an amazing company about my story, and getting to know the whole team of my awesome sponsor.
My 2017 Australia Trip
Late October Claire and I packed our bags again and hitched a flight to Australia. We spent a week visiting her family in Tasmania before heading to Melbourne. This was the location for this year's CrossFit Invitational, where again I was named to Team Canada. This year my teammates were Patrick Vellner, Carol-Ann Reason-Thibault, Alessandra Pichelli and we were coached by Camille Leblanc-Bazinet. The competition, just like last year, was a blur: a couple fun and fast events compressed into two hours of fitness entertainment. We performed very well as a team and took second place while the home team took away the trophy. Highlight of the event for me was watching our females tackle the tire flips to secure an event 4 victory.
After Melbourne I held my first ever athlete seminars. One was held at CrossFit Norwest in Sydney, the other at CrossFit Torian in Brisbane. It was awesome holding these camps to teach the Australian CrossFit community what I have learned over the years in this sport, and have a bit of fun!
My 2018 Crossfit Campaign
My entire 2018 season starting from The Open until the conclusion of the CrossFit Games will be included in a five part Telus Original documentary. The videos will be posted to the video library of this website's videos. Or you can find them on the STORYHIVE YouTube channel.
My entire 2018 season starting from The Open until the conclusion of the CrossFit Games will be included in a five part Telus Original documentary. The videos will be posted to the video library of this website's videos. Or you can find them on the STORYHIVE YouTube channel. Links here: episode 1, episode 2, episode 3, episode 4, episode 5.
To recap it briefly I had a rough start with the 2018 Open, narrowly qualifying for Regionals. But once I arrived to the California Regional in May I won for the third straight year, punching my ticket to the CrossFit Games. I trained hard all summer and arrived into Madison in excellent shape. The competition was fierce and at the end of the week I tied for third but lost on the tiebreak: awarding me the title of the fourth fittest man in the world. For my daily blog recaps read them here: Day 0, Day 1, Day 2 + 3, Day 4, Day 5.
After the 2018 Games
I took some time to settle back into my routine in Kelowna before vacationing in September. I travelled to Austin, TX to celebrate the launch of Ascent Protein in Whole Foods stores around the country. Then I went to Lisbon, Portugal to host a seminar to impart some of my knowledge to CrossFit athletes around Europe. Next stop was London, England where I helped launch a pair of Reebok Lifting shoes at WIT Fitness.
After my vacations I made two large changes in my life. The first was my decision to change coaches from Raw Strength and Conditioning to Brute Strength. Working with Raw over the past four year was an incredible journey and we are still very close friends, however I decided a change would be good for me to reinvigorate my training year. Also in October I made the decision to quit my job at Strawhouse after working their for nearly 4 years to focus my efforts solely on training to win the CrossFit Games. I loved my job and my coworkers but I am very happy to spend more time each day focused on training! Both of these decisions I talk about in detail on my interview with The Mind Muscle Project, link here: https://www.youtube.com/watch?v=kp4zbi9s66I
My 2019 CrossFit Campaign Games
The beginning of the season was punctuated by a lot of changes to the Sport of Fitness. The Open still exists, but now it serves as a method to get straight to the Games. You have to crush it though, or win a sanctioned event: a new handful of regional-esque events held privately around the globe all year.
I competed in the CrossFit Open and much like 2018, it went worse than I wanted. I always gave my best effort each week, some workouts I felt good but my scores were just not competitive. I never intended to use the Open as my qualifying spot for the Games and it was a good thing I didn't! Instead, I made my way to Shanghai China for the Asia CrossFit Championship in late April. I really focused my training so I would peak at the right time and it all paid off. I won 4 of the 6 workouts and finished the weekend 1st overall. The highlight for me was being the only athlete to complete the final set of lunges unbroken and smashing the finish-line button. If you want to read the day-by-day breakdown they are here
https://brentfikowski.com/2019/04/27/asia-crossfit-championship-day-1/
After Shanghai, I decided to compete at the Granite Games but not for a Games ticket. I wanted an opportunity to compete with less external pressure and try some new ideas my coach Nick Fowler and I had been talking about. The weekend was very competitive with a lot of great athletes in the field, the workouts were also extremely painful. I enjoyed trying out some new things, but it was mentally pretty exhausting. When the dust settled I finished the weekend with a finale event win, which catapulted me into 2nd overall behind Travis Mayer.
As the 2019 Games drew closer the athletes were beginning to hear what the competition would look like now that this year's field had Increased to 165 when previous years were only 40 individual men. After each event at the Games, the field of competitors would be cut until there were 10 left for the final half of the competition. Like most athletes, I did not expect to get cut, but I was wrong. With a few missteps, and the need for more fitness I was cut halfway through the competition and finished in 23rd. I was disappointed with this result as I had come to expect more out of myself, however, my spirits remained high as I looked ahead to the next set of challenges. Full recaps of my two days of competition can be found here
https://brentfikowski.com/2019/08/02/crossfit-games-day-1/
PICTURED: Brent Fikowski competing at the 2019 Asia CrossFit Championship
My 2020 CrossFit Season
Officially speaking the 2020 season started hot on the heels of the 2019 Games. I didn't take a break from training and started to prepare for the Open which started on October 10th. The first four weeks went quite well, and for the final week of the Open, I was in Boston at Reebok Headquarters with Patrick Vellner and Annie Thorsdottirr. I finished with my best score of the competition in week five which allowed me to finish  32nd in the world. After a disappointing Games and two underwhelming Opens, I was happy to see improvement.
Soon after the Open, I prepared for my furthest trip yet: the Dubai CrossFit Championship. It's been an event I've always wanted to attend and it did not disappoint. Four days, 11 workouts and athletes from 16 countries, 4 continents. Oh and I won! I was incredibly proud of my performance, finishing 8 of the workouts in the top 3, and seeing improvement in areas I had been working very hard on for years. I shared the podium with countryman Vellner and fellow Brute Strength athlete Roman Khrennikov.  Racing Roman back-and-forth on the Event 7 chipper is one of the most memorable competitions experiences I've had in a long time.
After Dubai was done I spent some time in Australia seeing friends, family, and with the help of Reebok surprising a few gyms by guest coaching a class or two.
PICTURED: Brent Fikowski competing at the 2020 Dubai CrossFit Championship
Picture credit in order: