2019 CrossFit Games: Day 1 Recap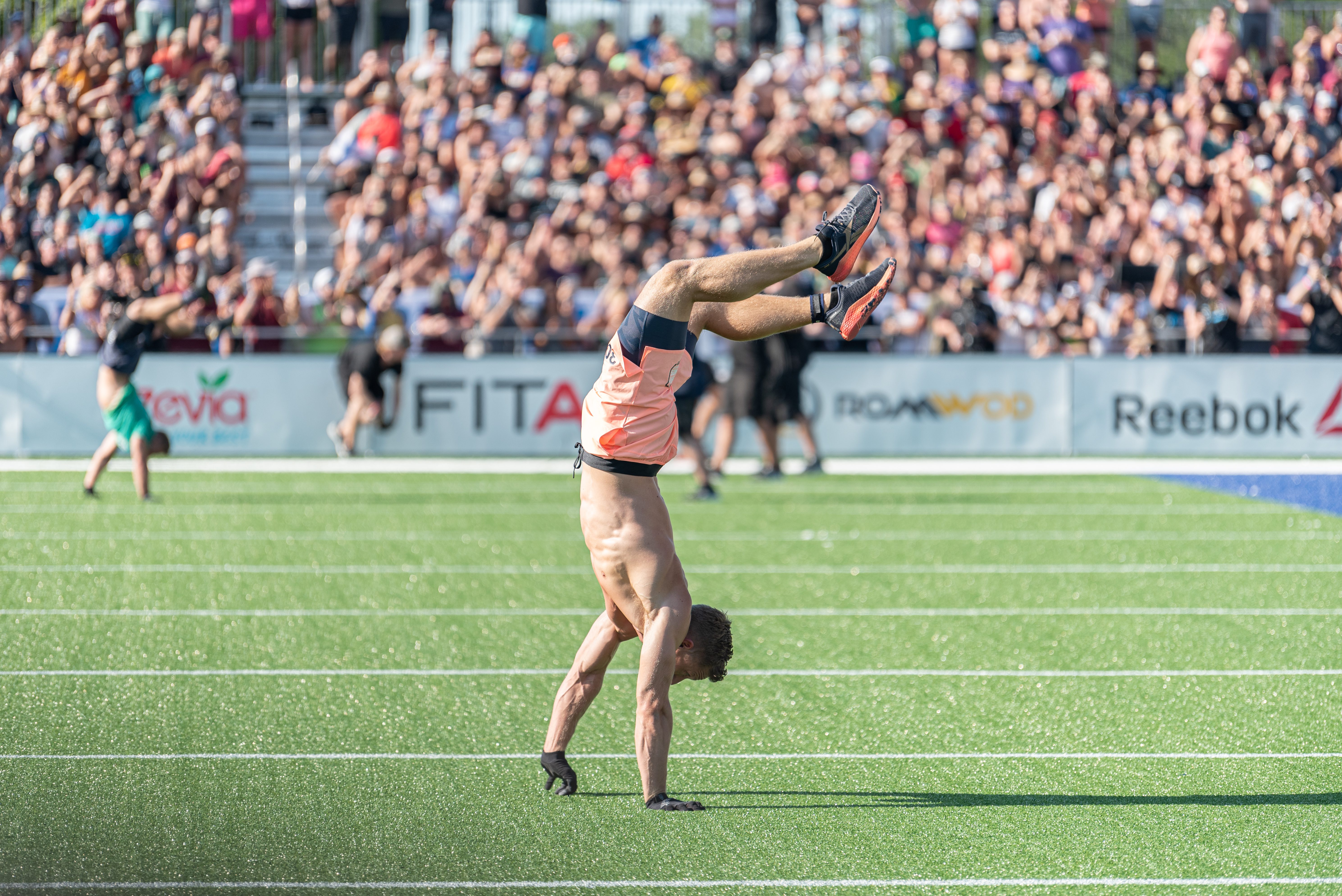 photo: @ahmetzehirphotography
Alright! 
Day one of the Reebok CrossFit Games 2019 is done, it's in the books. I'm writing this on my way home from the stadium. It's about 6:45 at night. 
We had two events today. Both of them were announced just before we did them. We had about an hour and a half to prep for each event, and we don't know any events for the next three days. This is definitely the most unknown CrossFit Games I've been to in the last four years. I think it's the most unknown CrossFit Games in the modern era, let's say, since 2011 as far as secrecy when it comes to the events.
We arrived early in the morning, first event was announced that there'd be three heats of 50 men, all competing outside. You would run 400m, do 3 legless rope climbs, and 7 squat snatches @ 185lbs and repeat that 4 times.
I finished with a time of I think 17:20. The best time was about 15:50. I think I finished at about 19th place. It was an interesting event because there was no official equipment assignments, so you had 5 men per lane, and in each lane there was a bunch of ropes and barbells. Basically as you arrived after your run you just found an open station and got to work. In the briefing this sounded a bit chaotic, but due to the movements the field thinned out pretty early and it felt like you had plenty of space, felt safe. The event flowed very nicely. I think everyone did, y'know, about the same amount of running and the same amount of reps, so it turned into a pretty good workout.
Stakes were pretty high because if you didn't finish in the top half of the men's field, you were immediately cut and your CrossFit Games are over. So potentially failing a legless rope climb or getting a no rep could be the end of your weekend. Unfortunately, half the field was cut and a few men that had some high Open rankings, a few men I know from America, were cut right away. Pretty heartbreaking, 'cause I can only imagine what that would feel like. It's pretty tough to see. Pretty hardway for us as athletes to see that happen to our friends, and not to mention the National champions that travelled from all around the world.
The workout itself went well, it was really hard. I mean, I finished. I was pretty exhausted, overheated. All the athletes felt about the same way. I joke afterwards and said "Oh man, felt like there were a lot of cameras out there, I hope I didn't look like I felt because I didn't feel that hot on those last two rounds." Actually, I felt very hot. Legs just felt really heavy after the snatches, so my first 200m of the run was more like a shuffle and y'know breathing was a little jacked up as well. Just a really brutal workout. Happy with my effort. When the workout was first announced I felt like it might be really in my wheelhouse to get a top finish. I did my best, but, I was just kinda all that I had. In some ways, it's frustrating but at the same time there wasn't really much I would have changed except a few technical small errors I made in my snatches on the first two rounds, and then they got really smooth in the last two. So maybe if I were to have started my snatches with that really smooth technique I might have shaved off a few seconds. Other than that, pretty happy with my performance. Not much more I could have done. 
Spent some time recovering, eating' lots of food courtesy of my nutrition plan from Target Nutrition, Amie Cox. 
Before we knew it, we had a briefing for the next event, Dave Castro announced it. Also, a triplet, so three movements. A little sprint chipper so it started with an 800m row, then 66 kettlebell push press at a pretty light weight, immediately into a long distance handstand walk in three large sections. I think it was 130-something feet, and each section was like 35ft, which is pretty long to go unbroken for each section. Usually you see maybe 25ft sections. Having the 35-40ft sections to go unbroken was a big ask. Obviously there's some risk there, if you fall down, but we will get to that later.
So started the row at a cruisey past, I think it was 1:40/500 for 800m row. And it's funny, I was joking with someone: If this workout was in the CrossFit Games, let's say, 6 years ago a lot of the athletes would have sprinted the first row. But here we are, the sport has developed a lot and everyone is a lot smarter. Pretty much every athlete started at about that same pace. Not many people started too fast and really blew themselves up. In Regionals and Games in years past that was a lot more common to see. I use to be the smart one that didn't start too fast. 
Got off the row, immediately got started on my kettlebell push press. Did 22 unbroken, 22 unbroken, 11, 11. I had a good judge. She was nice and loud. I didn't get any no reps. I could hear a few athletes next to me getting no reps. Really my goal there was to get a good breathing pattern, try to stay fairly relaxed but cycle the push press as fast as I possibly could. I like shoulder to overhead motion with dumbbells, kettlebells, and barbells. I knew that doing them fast and having some comfortable breaks as opposed to doing them in big sets with slow breaks would be a good idea. So, I was happy with that, especially with my long arms to keep up with the pack. 
I was able to put them down and get started on the handstand walks and was pleasantly surprised that the first one didn't feel that hard. I think after the first one I was listening to the announcer. I didn't look to my left or my right but I could hear that I was right in the mix with Jonne Koski and Mat Fraser for the lead. I seemed to be on pace with the time to beat from the previous heat which was the man from Poland, Bronislaw.
Did the first set unbroken, shook out my arms. I actually thought that I could probably do both sections unbroken but decided to play it safe. So first set unbroken, shook the arms, one or two breaths, second set unbroken. Near the end I could feel the shoulders getting a little more lactic, a little more unstable but really not that bad. I think that it seemed like Jonne Koski had fallen off the pace a little bit with myself and Mat Fraser. I could see out of the corner of my eye and with the announcer that Mat Fraser kicked up a little before I was ready. Took one or two more breaths. Didn't feel like I was risking it at all. I just kicked up and got going on the final one. Felt pretty confident that I could do that one unbroken and was moving along making sure I picked up my hands and didn't drag my fingers, which it happened on a few of the previous handstand walks. Wanted to make sure that I had these nice confident, short, sharp, nice steps with my hands. Was kinda waiting, I knew I was getting close, I knew I would see the blue line pretty quick. Shoulders were getting a little tired, but nothing crazy. Before I knew it, I sort of fell, I was only probably 4-5ft away from the finish line. My one shoulder just sorta collapsed. Fell onto my shoulder, did a little somersault, I heard the crowd go *oh no* and then I slowly made my way back. I took a long break to make sure that I didn't fail again. Probably a bit longer than I needed, but I wanted to be sure. Then I kicked up, and finished.
After I crossed the line, I was fairly disappointed knowing that had I rested an extra 5 seconds that first time and did that final set unbroken, I probably would have finished in the top 5 in that event which would have been a lot of points. However, because of that fall and the reset, and the second lap, I lost quite a few places in that event. I was bummed for a little while, but like I said to my coach after, and we talked about, there's really only three things I can do now: 
1. Quit
2. Keep going with a positive attitude, or
3. Keep going with a negative attitude
So I'm just going to keep going, fighting for points, knowing that everyone else has little issues, little problems and little mistakes they make throughout the weekend. Hoping my fitness will be able to carry me through and a little better consistency in the next few days will carry me through to a solid overall finish. 
Anyway, that's basically it. Felt like it was a strong day 1. Definitely less taxing on the body overall than my other three CrossFit Games. There was another set of cuts. They cut the field down from 75 to 50 men. Which again, was a little heartbreaking. Hard to see those guys who have worked hard all year, have such an abbreviated finish to their season. Not being able to experience the full CrossFit Games, but unfortunately though that's going to be the way that things shake out with the new system. An unfortunate reality when logistically it's hard to put that many athletes through an entire weekend of competition, some cuts have to be made at some point. Doesn't make it any easier to watch as an athlete on the other side, knowing what that must be like.
So, I'm going to bed here pretty soon. Early start to the day tomorrow where we learn what the events are. Thanks so much for tuning in everyone,
Brent out. 
To get these Games Recaps and my Weekly Recaps all throughout the year directly to your inbox, sign up with your email by clicking here.