2016 CrossFit Games: Day 5 Recap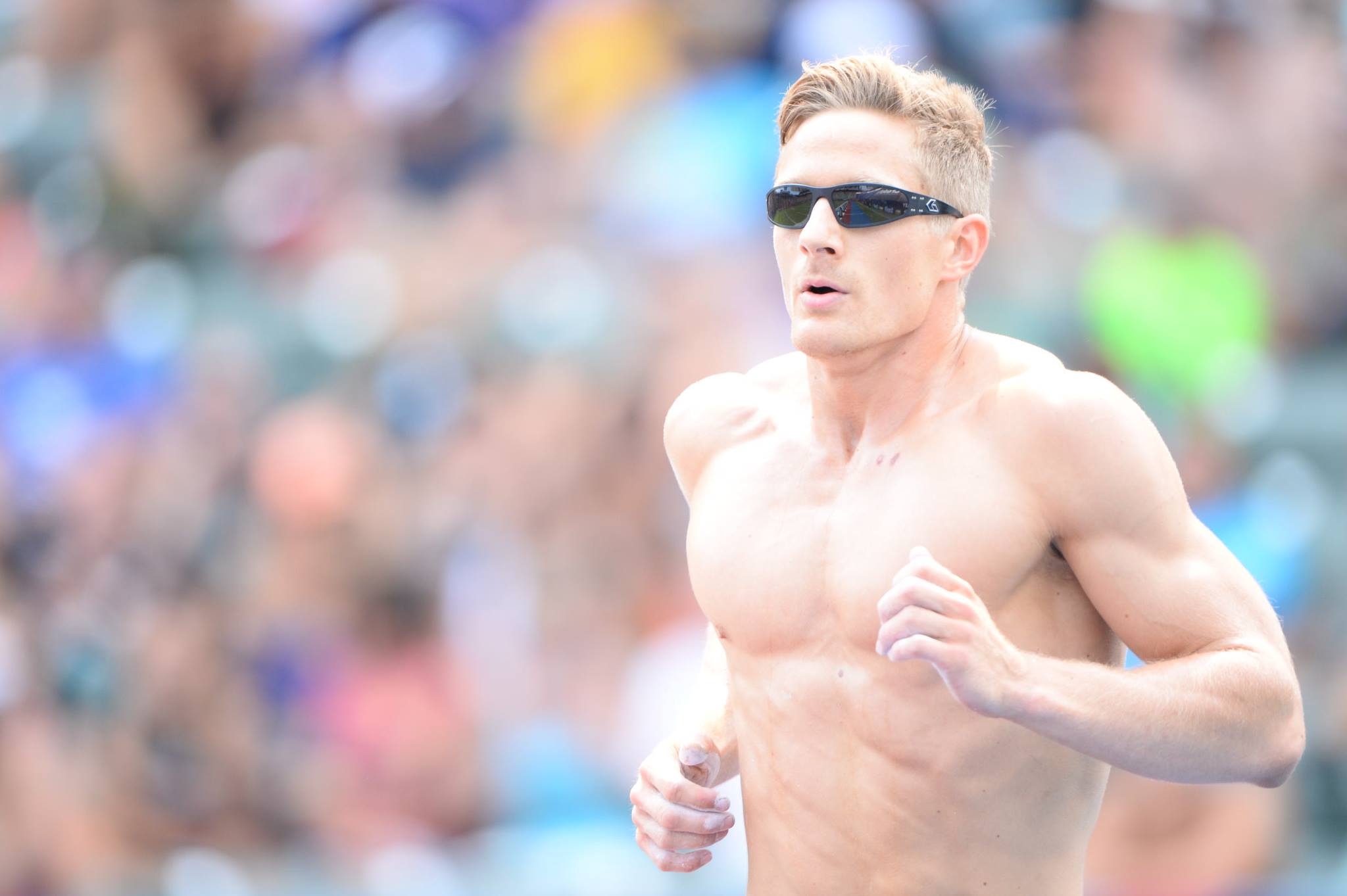 July 24th 2016
Mind Dump, Day 5
Sunday write up
7.5 hours of sleep before the final day of competition. Would have liked a little more!
Arrived at the Stub Hub centre at 8:00am for checkin and we were briefed on the details of the soccer stadium skills triplet. I discussed strategy with my coach and warmed up. The warmup was brief. Mostly stretching out my shoulders and some sprint drills. I decided to wear the Reebok cleat shoes even though I was unfamiliar with them. I couldn't risk slipping.
The event started with a 280ft/90m Handstand walk across the soccer field. Each 20 feet had to be done unbroken. Ben Smith was to my right. I started with an 80 foot unbroken walk, then continued with 20 foot unbroken sections. Doing my best to move fast and rest a minimal amount. The very last section I took about 3 steps and had to come down. I had a quick shake out then finished the handstand walk. I am usually able to go a bit faster on handstand walks, but I think I timed my fatigue on that event well. Funny what 4 days of competition will do to your arms!
After that was the suicide sprints. Approximately: 30m out and back – 60m out and back – 90m to the finish line (270 meters total). I had been practicing my sprinting and direction changes on grass for a few weeks and was excited to try out what I had learned. Everyone was out like a rocket that first 30m, I think I should have attacked it a little more aggressively at the start. After the first turn though I was at my max speed for each section. The final home stretch 90m sprint was really hard on the legs but I did my best to remember the queues from my sprinting coach and I was happy with my finish.
The next event was two lengths pulling the plow. This was the first time touching this piece of equipment. I thought this was my event to win as I am typically very good at pushing and pulling sleds. I started off with a steady trudge and held that pace as best I could for the first length. I dropped it at the turn around, spun it, and gripped the handles the other way with my hands. Took a few steps and was uncomfortable with that grip so I changed back to my original hold. I was trying as hard as I could to catch Mat Fraser who was two lanes to my right and about 20 feet ahead of me. No matter what I did I seemed to only have one pace. I felt as though I could have maintained that pace for another half a lap, but I could not increase my speed. I went well past the finish line to be sure I didn't stop too early, then I cooled off.
I left the field feeling a bit dissatisfied with those three events. I thought I had some real potential on all of them for a high finish, but it seemed I had been beaten by many guys in my heat. In the tunnel I saw that I had remained in 4th spot which made me happy, I thought those performances may have dropped me down in the overall ranking. I didn't want to know my specific ranking in each event or my times, but I was told I was around 12th in each which was a relief. I guess the men around me were very fast!
The final two events were announced by Dave Castro in the tennis stadium. I really liked the first announced event although I haven't skipped with any rope besides my own for 5 years. Definitely never a heavy one. The second event I was a little worried about the thrusters because my squat felt so weak the day before and 135lb for 21-15-9 reps could be challenging for me.
We were measured for our new ropes and were allowed to do about 15 total skips. I had a large break after the track events where I stayed in the athlete area. I stayed cool and away from the sun and I didn't check my phone. All the men were lounging around bro-ing out and telling stories. Khan had a few good yarns, so did Sean Sweeney. Josh Bridges would always mock the guys who said they were tired stating something like "Awe you didn't get too much sleep last night?!! Poor guy, I was doing pushups!"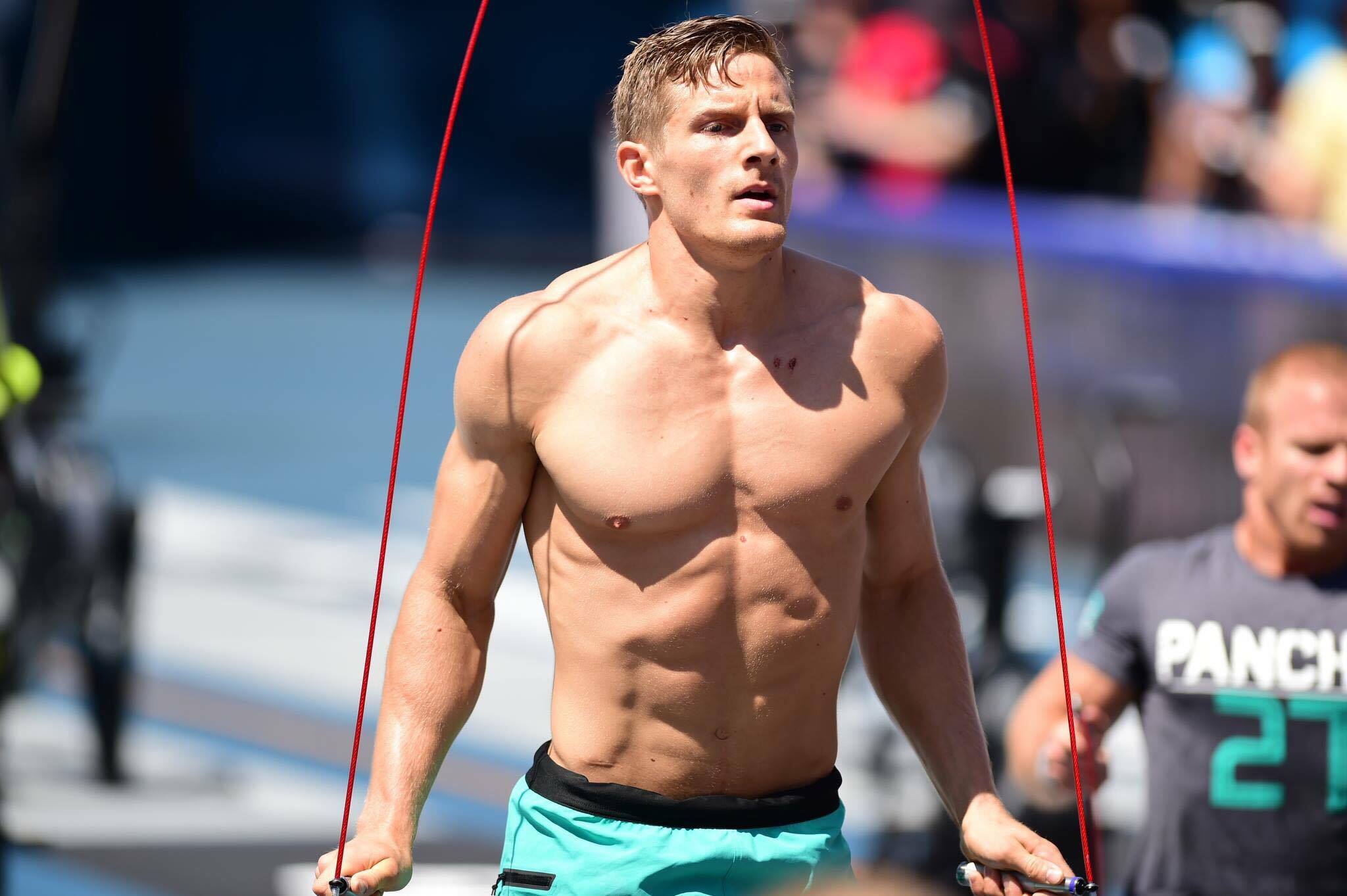 For event 14 the rope pull chipper I had an approximate pace I wanted to hold on each machine, but I would go on feel while I was on the floor. I knew I needed to be the first or one of the first to the rope. After watching previous heats I was a bit concerned the sled pull might be heavy for me. Some athletes I thought would excel really struggled.
The event started and I think it was the most intense event of the weekend in my mind. Maybe only exceeded by "100%". It was hot out on the floor. Ben Smith was to my right, and we were keeping an almost identical pace. The announcer frequently mentioned when Josh Bridges moved to the next station and it was always about 3 seconds before me. I definitely was feeling the pressure to keep moving because each station was so quick and the crowd was yelling whenever someone moved. Every set of double unders with that heavy rope was very tough. It took a lot of focus to ensure you didn't trip, and after 30 reps my arms definitely wanted to put it down but I always did the 50 unbroken. I tried to keep all my transitions fast and smooth. I got to the rope pull after the final 200m ski erg. Grabbed it right away and gave it three pulls as hard as I could without thinking. I looked down the floor and the sled looked like it was nearly half way towards me! I was shocked at how easy it felt. So I frantically just kept grabbing and pulling in any way that I could to keep the sled moving. Stepping onto the finish mat in first place was an awesome feeling. I shoved more ice down my pants to cool down, had an interview then went to an ice bath to cool down even more.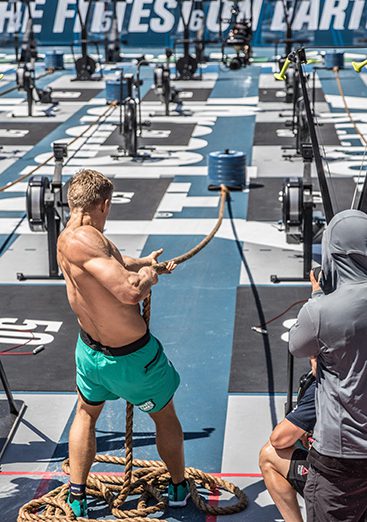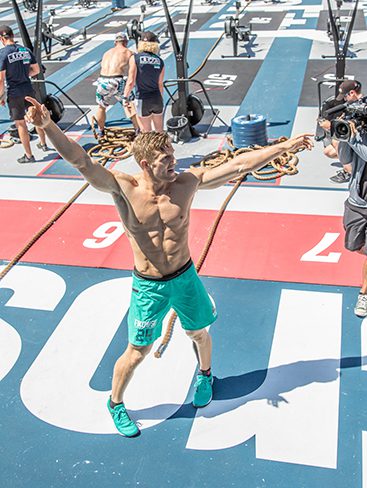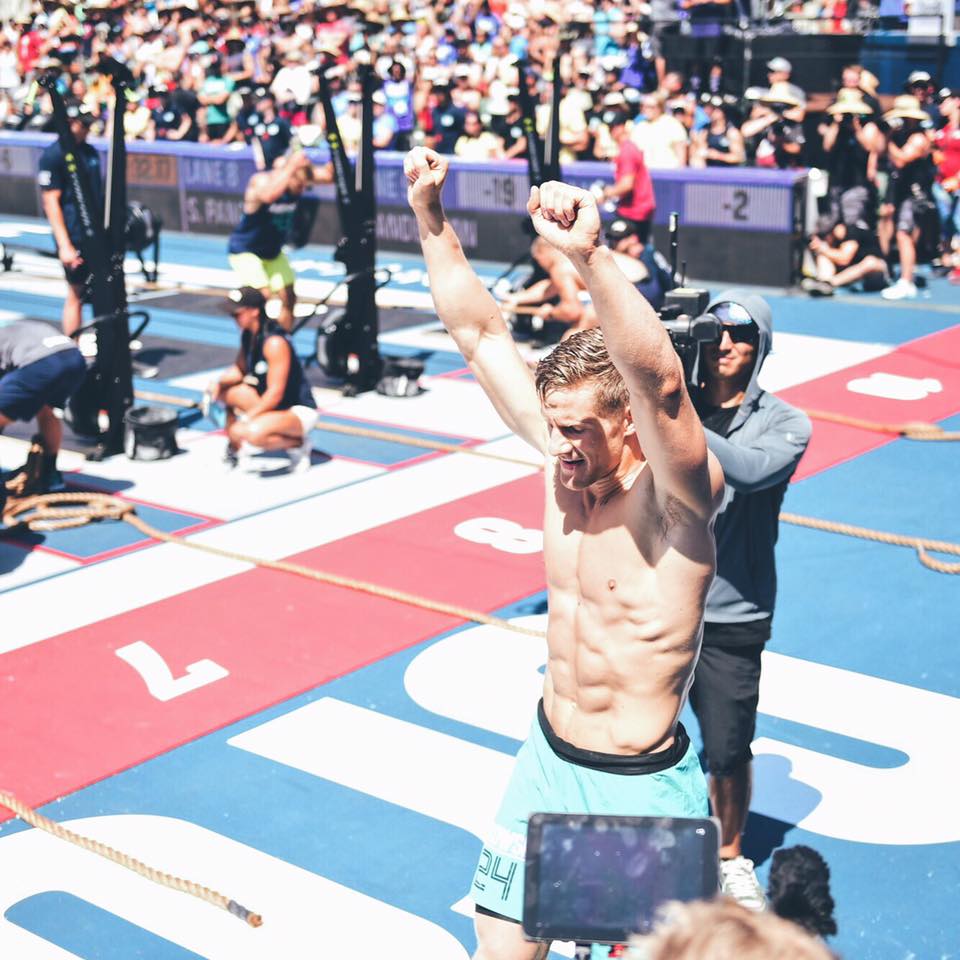 When I went back to the athlete area this was a moment I will never forget. The other heats of men were finished and they were all hanging out in the air conditioned room watching our final heat on TV. The look on some of their faces was priceless, they were pretty shocked at how easy I made that sled look. I again made sure not to check my phone.
I was told I was still in 4th place by my coach. He said that third was within reach, 5th could catch me and 6th place was likely out of the picture. That was all I needed to know. Initially on the final event our strategy was to pace the pegboard, jump down with the pegs and start over each climb. Break up the 21 thrusters 11/10, the 15 in 9/6 and then 9 unbroken. It was a safe and smart plan.
I was warming up a few minutes later and my coach came over to me. The second heat of men had finished, he saw Zac Carchedi chew up the field by nearly 2 minutes. He said something like "Brent, I reckon he isn't that much better than you at this event. Let's go after it." After some more talking, and a new tip from James Newbury we changed our plan. Basically at this point in the weekend I had achieved a lot. I had proven to myself and anyone watching I deserved to be there and I was one of the best. At this point it was better for me to risk it and go for third, and perhaps fail miserably in a blaze of glory and come sixth, then play it safe and lock in 4th or 5th. I smiled at this idea and agreed that the difference between leaving this weekend in 6th to 4th was practically the same for me, but the opportunity to finish on the podium was not one we could afford to waste. The new strategy was push the pace on the pegboard. Leave the pegs hanging just below the line, jump up and start higher, saving those extra few pulls at the start. I would also do the thrusters all unbroken. We knew I would have to take long pauses at the top to breathe to ensure I didn't stop, but that was better than putting it down and waiting to pick it up again. My thrusters are slow anyway.
I was excited for the opportunity this event presented. I was not too nervous to be honest. My warmup felt good. I think I was more nervous before events 7, 11 and 14. We were called out onto the floor and we began the event. At the top of the clear plexiglass pegboard I could see fans in the crowd which was cool. In my peripherals I could see Ben Smith to my left and Panchik to my right. I was first or second off the pegboard and grabbed my barbell without too much hesitation. I knew Vellner was behind my pace a few lanes over, that was the last time I saw him or really thought of him and what he was doing. I knew if he didn't beat me off the first three, and I went unbroken I would beat him on the event and that was all I could control. One rep into my thrusters and Ben Smith grabbed his barbell, he dropped it once, picked it back up and still finished one rep ahead of me! haha! I told you my thrusters were slow. But damnit they were unbroken. Back to the pegboard and I didn't waste much time on those two. 15 thrusters were good but my shoulders were getting tired, not in the same place that I needed them to be fresh for my final climb so it was ok. I think Fraser and I were quite a distance ahead at this point. One last climb and back to the 9 thrusters, I tried to jog to the bar and get started quick. Mat beat me to the finish line, I jogged in for second in the heat and third overall in that event.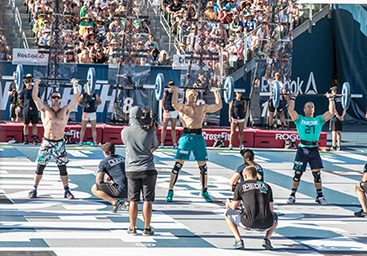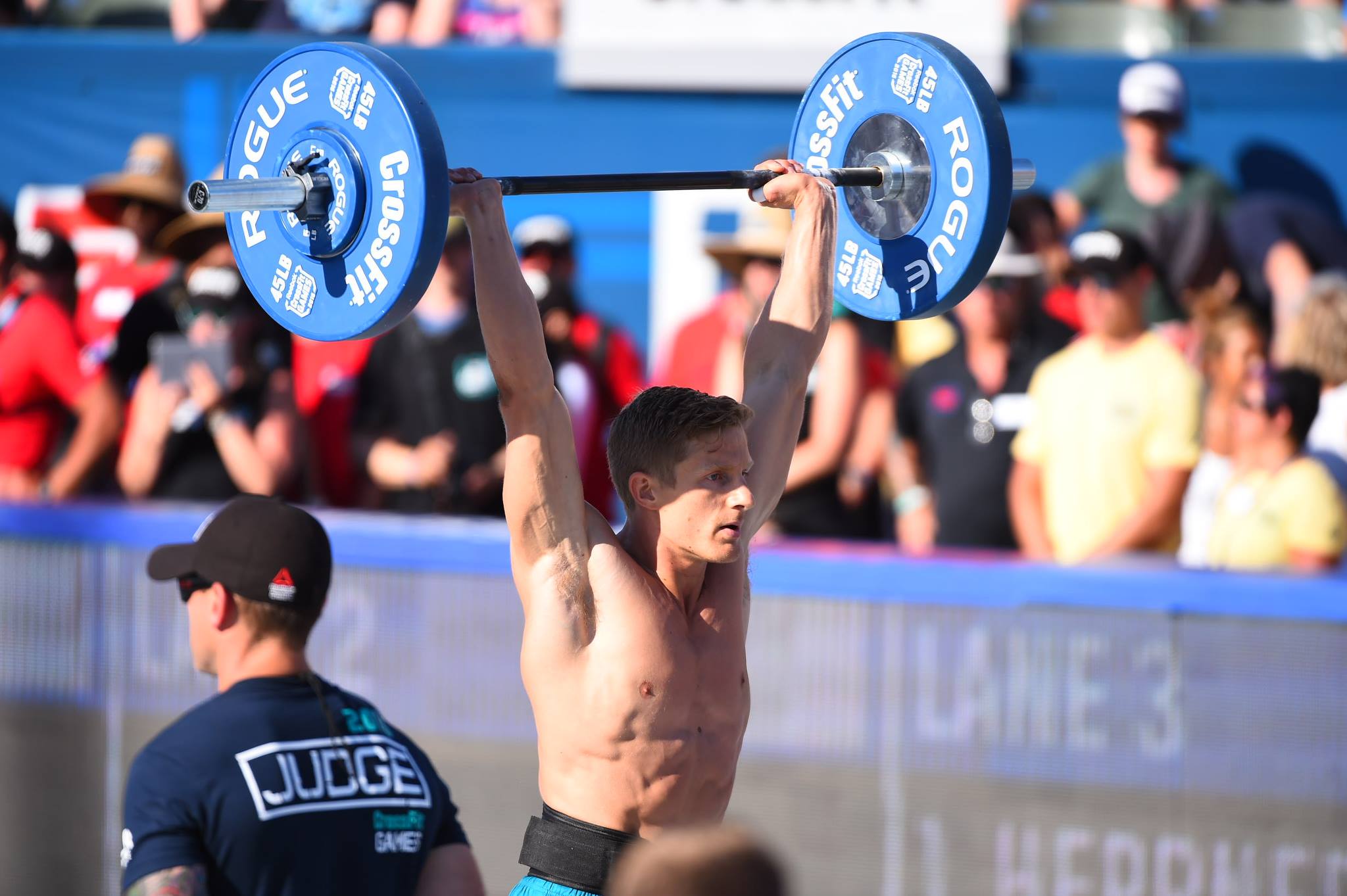 I was absolutely overwhelmed with emotion. I think I had accomplished so many things over the weekend that I was so proud of, but I was trying to push them down and not make a big deal about it so I could continue performing. Now those feeling rose to the surface and I was just so happy I had finished the weekend strong and given myself the opportunity to be on the podium. I walked forward to give some random guy a high five who was leaning over the wall. He said to me "Look at that man! Incredible, look where you came from! And now you're here?! Unbelievable". The dude sounded like he was on a soapbox in a hollywood football drama. It was actually so unreal that someone would say that to me, I had brief mental flashes of myself in my first year of CrossFit in 2012 and how that 21 year old Brent would be in disbelief if I could tell him what he would accomplish this weekend. As those memories came to mind I got down on my knees and buried my head in the corner of the wall and cried a bit. The only moment that compares was when I was 17 and broke a provincial swimming record in front of my home crowd, finally topped that feeling I think.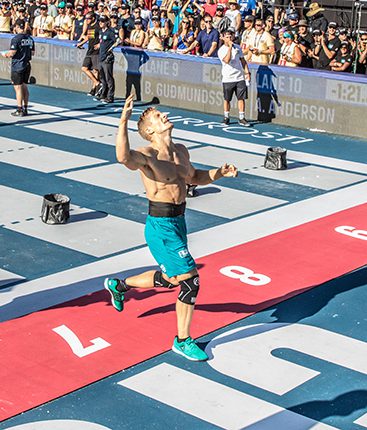 I spun around and looked out at the floor. Gave a high five to Mat Fraser and congratulated him. Saw Vellner leaned over on the wall. Went over and gave him a hug. Told him I loved him and was so proud to be competing against him all weekend. He shared the same feelings, I think both of us had released the outcome whether we had come 3rd or 4th and were quite content with wherever we finished. I like to think I have a friend for life with Pat, he is a good due. Needs a haircut, but a good dude.
Standings were released while we were on the floor and Pat clinched 3rd, I was happy for him. I saw that I was only 2 points away, a bit unhappy about that! Haha that is very close. I searched the audience for my girlfriend and blew her a kiss. Later I said I was 97% complete happiness and 3% ticked I couldn't quite clinch 3rd!
Got some pizza and we watched the awards ceremony. Talked to the two Lukas' from Europe. Got a chance to talk to my family over the railing before being taken away for drug testing. Grabbed all my gear, went back to the hotel.
Follow my page, tomorrow I will post my final thoughts and do my best to wrap up the whole event experience.
Thanks, Brent
---