CrossFit Games: Day 2 + 3 Recap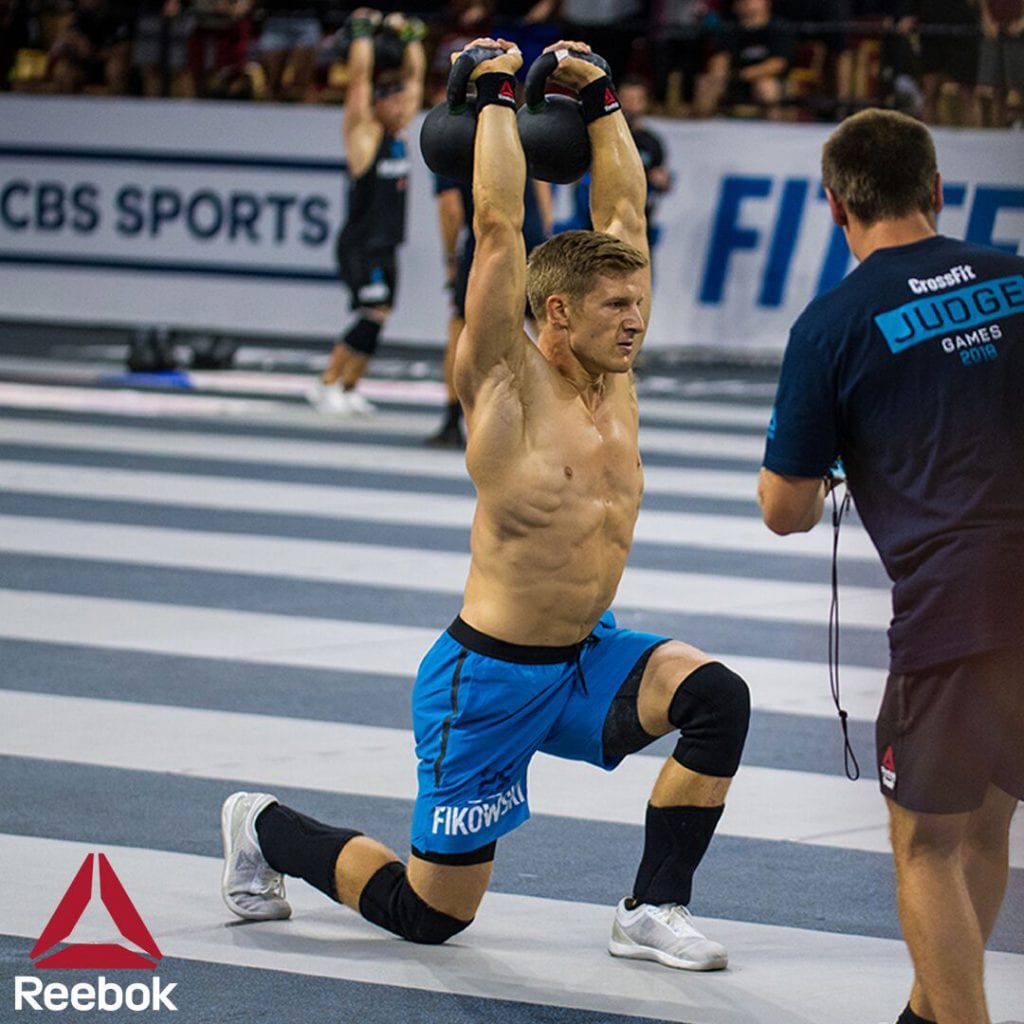 Sorry for the delay – its been a busy couple of days but I'll do my best to briefly recap the action.
Day 2 of the CrossFit Games was a rest day. I slept in, ate lots of food, had a nap, went for a float, had a massage, ate more food, drank lots of water, and a couple other little recovery tricks to ensure I was ready to go on Friday, August 3.
Thursday, August 2, in the evening, the only obligation we had was to attend the opening ceremonies where we got to stand in front of the crowd under of our countries flag; which was a lot of fun but admittedly most of the athletes would have rather been home, resting – haha.
Day 3 of the CrossFit Games was a lot of fun. We started with the Battleground. I was very excited for this event. I felt I had an opportunity to win the event, or place very high. We all had to wear 20 lbs weighted vests and complete a variety of tasks.
The first task was to drag a 185 lbs dummy across the field anyway we desire. I decided to pick the dummy up, shuffling backwards and holding it at my chest. Turns out I picked it up a little too fast. The weight of the dummy was all in the chest and I leaned back a little too much, causing me to essentially tackle the dummy to the ground as the other nine competitors in my heat ran away.
In hindsight, one of the athletes, Cole Sager, grabbed the dummy by the shoulder and dragged it incredibly fast across the field in play. That was probably the quickest way to complete the event, but at the time I didn't see him, nor did I think it would be a wise idea. In the warm up area, I dragged my coach around who weighs about 40 lbs more than the dummy and found it very easy to carry him at chest height like I had planned. However, I didn't plan for all the weight of the dummy to be in its upper body. Just another surprise at the CrossFit Games.
After dropping the dummy I was already behind the pace of the majority of the field. I was able to make up some time on the two 20 ft rope climbs. I've been practicing efficiency on these and was able to scale them very quickly. I was one of the first athletes on the 400 meter run towards the Battleground; a series of obstacles that neared the obstacles we attempted last year. The difference this year is we went into the event a lot more fatigued due to wearing a vest and previous activity.
Mat Fraser and I started attacking obstacles at the same time. My goal was to hold pace with him and hopefully beat him off the monkey bars as that was the strongest obstacle for me and then gain more ground on the run back to the field. All the obstacles went very smoothly. I made a small mistake on the stepping stones. I should have bounded over them in three steps, but took four or five and approached it too timidly.
Next was the six rope transfer. Like last year, I unfortunately messed this up again. Afterwards I was fairly frustrated with myself. Last year, I jumped to the third rope, lost my grip and had to start the obstacle over. This year, I jumped to the second rope as I intended. As my momentum carried me forward, I started to slip further and further down the ropes as I was hastily trying to make my way to the end of the obstacle while I should have been a little more patient and kept the ropes tight to my chest. I failed the obstacle and then Mat Fraser got a 15 – 20 second lead on what was previously a tie in the event.
Next was the rope swing which I cleared by an inch as the judge saw my foot barley crossed the red line on a log. I finished the monkey bars easily and started running back to the stadium. Unfortunately, I was already well behind the leaders Cole Sager, Mat Fraser, and a few other athletes. When I got back into the stadium, I ascended the rope as quickly as I could, grabbed the dummy and walked it back in the same fashion I had the first time having learned from my previous mistake. I ensured I shuffled quickly but not so fast that I was falling over. In my peripherals a few lanes down, I could see Gudmundson gaining some ground on me. I chose in the efforts of safety to not race it too much, hoping my efforts would be good enough to catch him knowing if I risked it I could lose even more time to another competitor in another heat. Sure enough, he was able to catch me, but I was happy that I didn't risk failing on that implement one more time.
After the event, I was a little disappointed with my finish knowing it could have been a top three instead of around seventh, but after talking it over with my coach I was mentally able to move on. We had a pretty sizeable break. I was able to rest and felt very energized. We went to the colosseum and had to bring all of our equipment not knowing what we would do next.
Dave Castro announced the event as a repeat of Squat Clean Speed Ladder. My heart sank as that would likely not be a strong event for me but then he announced it would be a Clean and Jerk and would not have to squat a bar in the clean, you could power it if you wanted to. My spirits lifted as I knew that was a much more favourable strength test for me.
The first wave started with five Clean and Jerks starting at 245 lbs and ending at 270 lbs. I was able to Power Clean and Push Jerk these very quickly, making sure I got the down signal from my judge before moving on, but trying to rest between transitions once the signal was given. I was happy with my effort but still a little nervous that I might not have made it to the next top 20 athletes who moved on to compete on the heavier barbells. It was announced that I did. I finished a time good enough for ninth. 20 athletes were cut, and the top 20 athletes moved on to try their hand at a heavier set of barbells.
This ladder started at 275 lbs and ended at 310 lbs for a total of five Clean and Jerks. I knew I could Power Clean the first two bars at least but I would potentially have to drop into a squat for the next three. However once I got onto the floor, adrenaline took over. I was able to Power Clean all the bars fairly quickly. I had to catch them in a wider stance than I usually would in training so technically they weren't as sound but it felt safe and I knew it would be quicker than dropping into a squat. I jumped onto the finish mat as third in my heat and was very excited with my finish. Although, I knew it would likely not be good enough to move into top five to move along to the next heat of men.
We got backstage and watched the final heat go to see who'd move on. All the other athletes were there watching. To our surprise Mathew Fraser had a sizeable lead going into the final barbell, failed it twice before hitting it on the third attempt. There were more than a few surprised looks in the athletes, one even saying sarcastically "I guess he is human," and a few people laughed. Mat was visibly frustrated, however, his effort even with the two fails was good enough for sixth in the event which was not enough to move onto the final set of heavy barbells, but still a quality amount of points to keep him in first overall.
We watched the women's heats while back in the athletes warm up area as well on TV. Their barbells were definitely comparatively lighter as most females Power Cleaned all the barbells in the first two waves. Almost all the women were in five seconds of each other. It was quite intense.
The final event of the night was a repeat from the previous year which was called the Fibonacci Final; a combination of very deep Handstand Push Ups and very heavy Deadlifts with two Kettlebells in each hand. When they were brought into the warm up area, we all laughed as they are so comically large. 200 lbs a hand, they look like these massive cannon balls with these little bitty steel handles.
Last year I was able to finish third place on this event, primarily due to my strong lunging after finishing the couplet of Deadlifts and Handstand Push Ups. I knew this year would probably be a little harder as athletes have learned from the previous years mistakes. I think most athletes shoulders were far fresher than by the end of the weekend last year, allowing them to do bigger sets on the Handstand Push Ups. Last year, the adrenaline for me knowing I had a podium spot available and the focus that came along with that allowed me to reach quite close to my potential. Therefor, I knew that coming third again might be slightly out of reach. However, I implemented an aggressive strategy and attempted to just do my best and let the chips fall where they fell.
An unfortunate part of last night of being in the final heat was that the first three heat of men were able to complete their events, go home to sleep. We had to wait for all the women's heat to finish and then the men's final heat was the finale of the evening. We probably missed out on an extra two hours of recovery compared to the previous heats that evening. However, we did have more time to recover for that particular event, possibly allowing us to get more competitive times.
I was surprised, even though it was late, how many fans stuck around to watch the event. It got started and immediately I knew the Handstand Push Ups were not going to go as well as I had hoped. My judge was being quite particular on the Handstand Push Up standard as he kept reminding me to open my hips and squeeze my glutes in order to complete the rep. This resulted in one no rep, and a variety of other reps that required me to hold at the top a little longer than I might usually do. However, I was able to make up a lot of time on the Kettlebell Deadlifts. I had been working on my Deadlift all year, they felt lighter and I was able to move them faster than I did last year. Probably as fast as any other competitor in the field. I could feel the pace of the other athletes in the Handstand Push Ups allowing them to gain valuable seconds on me as the rounds went on. I wasn't overly fatigued cardiovascularly or my breathing, however, I knew I needed to rest my shoulders so I wouldn't fail any of these Handstand Push Ups in the later rounds. In my head I was thinking "Come on Patrick Vellner, come on Mat Fraser, I'm coming for ya," especially in the last round of Handstand Push Ups. When I finally finished my 13 rounds of Handstand Push Ups and turned to my 13 Kettlebell Deadlifts I think a few of the athletes were nearly on the lunges. I pushed through the Deadlifts as quickly as I could, knowing the lunge was one of my strengths.
One thing I had visualized many times as soon as the event was announced was after the 13th Deadlift was complete I would take no rest and quickly grab the two lighter Kettlebells and begin my lunging as this was a strength of mine. As I started to lunge quickly I could hear the crowd get behind me as I quickly started to gain some ground on a few of the leaders. I could tell that both Vellner and Hogberg had dropped their Kettlebells and were resting about three quarters of the length down the field. I knew I didn't have much time to finish the event under the six minute window. I pressed on as quickly as I could. I was unable to catch Patrick Vellner but I was able to catch with Lukas Hogberg in the final few steps. I thought I barely slipped my time chip onto the platform under the six minute mark, however, I was officially time capped and didn't finish the event. I did better than last year and I was happy with my effort.
All in all, it was a very good day. I went home very tired, still a little dehydrated and probably a little under fed. I ate a ridiculous amount of food all day, but I could tell it probably was still not enough. I force fed myself more food that night, drank lots of water, and got to bed as quickly as I could. I was optimistic and excited for another good day of competition on Saturday even though I was quite sore and tired. After all these events, it can be hard to remember you're only half way through the competition and there are many points to either win or lose depending on your performances.
Anyway, thanks for reading my recap of Day 3 of the 2018 Reebok CrossFit Games. I'll try to post tomorrow morning, my recap of Saturday, Day 4.