CrossFit Games: Day 0 Recap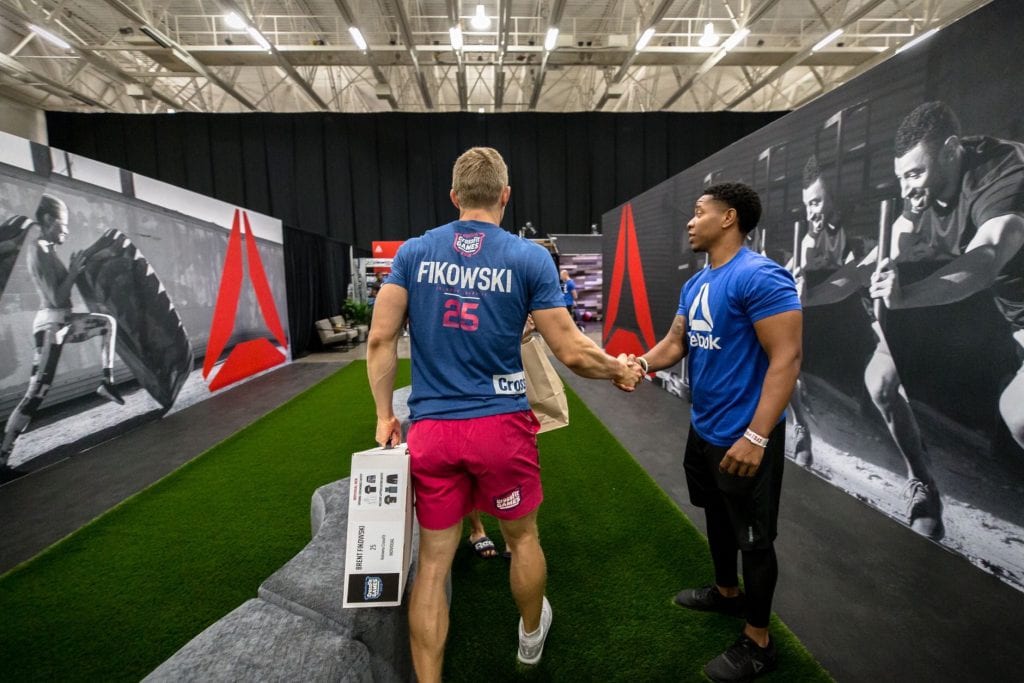 Today was, I guess, Day 0. It was actually a pretty busy day as we prepared for the start of the CF Games which is Wednesday, August 1.
We were at the venue from about 7:30 AM until 2:30 PM. Most of the morning was spent preparing for the bicycle race that will take place on Wednesday morning.  We've been told the women will start at approximately 8:30 AM and the men will start at approximately 9:30 AM on Wednesday morning.
Today, we watched some professional cyclists take the course. We watched them take some of the corners at full speed, we got to talk to the cyclists as they gave us recommendations on the course, we then finished our bike measurements and did a few laps around the course to warm up. Then as a group we went over each corner and strategies for effectively taking the corners. 
We then prepared for our time trial. The trial was one lap of the course as fast as possible, which determined where you would start in the rows of men for the event Wednesday morning. We did one lap of the course, but on Wednesday we will be doing ten laps of the course with all 40 men starting at the same time.
I finished in 16th place today. I will be in the second row of five rows. I was happy with my time trial, by the end I had a pretty epic leg pump and my lungs were burning. I definitely will not be able to hold that pace for ten rounds. I think on average I was holding a little above 40km/hr for the 1200 meter course. After that, we went to the lake and got to try out the paddle boards. We will be using the paddle boards in an unknown event which will take place on Saturday. These are not Stand Up paddle boards. You are required to lay on your stomach, or, potentially kneeling in a prone position, which can be slightly faster but does require more skill and balance. I will not be capable of kneeling on the prone paddle board as I have not been exposed to it in the past. I definitely would prefer a regular swimming event, but as long as we're getting wet I won't complain too much.
After paddling on the paddling boards, we were also sized for our weighted jump ropes. These were first seen at the 2016 CrossFit Games during the Wood Chipper, which is an event I won. I believe each handle is a pound, the rope itself is thick steel and is another half a pound. It makes doing Double Unders significantly more difficult. We will all be using ropes provided to us that are a length suitable to our height. After that, we came back to the venue and we were given the full event briefings for Events 1, 2 ,3 and 4 all taking place on Wednesday.
Event 2 will be 30 Muscle Ups for time, held, side, with a very small start and finish mat right near the rings. The rings will be hanging off of the Zeus rig about 20 feet in the air. The length of the straps will definitely effect the stability of the top of the dip for some athletes. I've been practicing on longer straps, so hopefully it's not an issue for me. They're still finalizing the height of the rings off of the ground. I hope they do not settle on 92 inches as my feet will be dragging on the turf between reps. Hopefully they bump it up to 96 inches.
The third event for the day is the CrossFit Total. We don't have a time for the start of Events 2, 3, and 4 yet. But 2 and 3 will likely be very close together. Event 3, The CrossFit Total, is held outside. You'll have one platform for each lift, you will perform all the lifts back-to-back, in the order of Squat first, Strict Press second, Deadlift third. You only have a four minute window to lift with a maximum of three attempts per movement. You'll be required to load your own barbell and you cannot go in weight once your first rep has been attempted. You definitely need to be intelligent with your opening reps, because if you fail to log a score on any of the three lifts, you will not be able to continue competing at the CrossFit games. I definitely think that there is a possibility the criterium bike race will effect our legs slightly for the Back Squat. I don't think the Muscle Ups will effect our shoulders too much for the Strict-Press, and the Deadlift will be a little interesting because we've had to max out our Back Squat only minutes before. It'll definitely be an exciting event to see who is able to put it all out on the line and come out with some big numbers.
We're told we'll have a sizeable break between Events 3 and 4 and start the full Marathon Row at approximately 5:30 PM in the colosseum. It will be very interesting to see how that plays out, definitely the longest continual event ever at the CrossFit Games, and likely the longest event there ever will be. Although fitness will definitely play a part, I think your strategy for preparation and recovery will be just as important to how the event effects the rest of your weekend.
Hope you enjoyed my day recap of Day 0. I'll try to provide a recap of tomorrow, maybe mid-day after CrossFit Total as after the Marathon Row I'll likely be heading straight to bed.
Thursday is a complete Rest Day, so if nothing else, I will give you an update then! Thanks so much for all the support guys. Looking forward to doing my best on the competition floor tomorrow. 
---