CrossFit Games: Day 5 Recap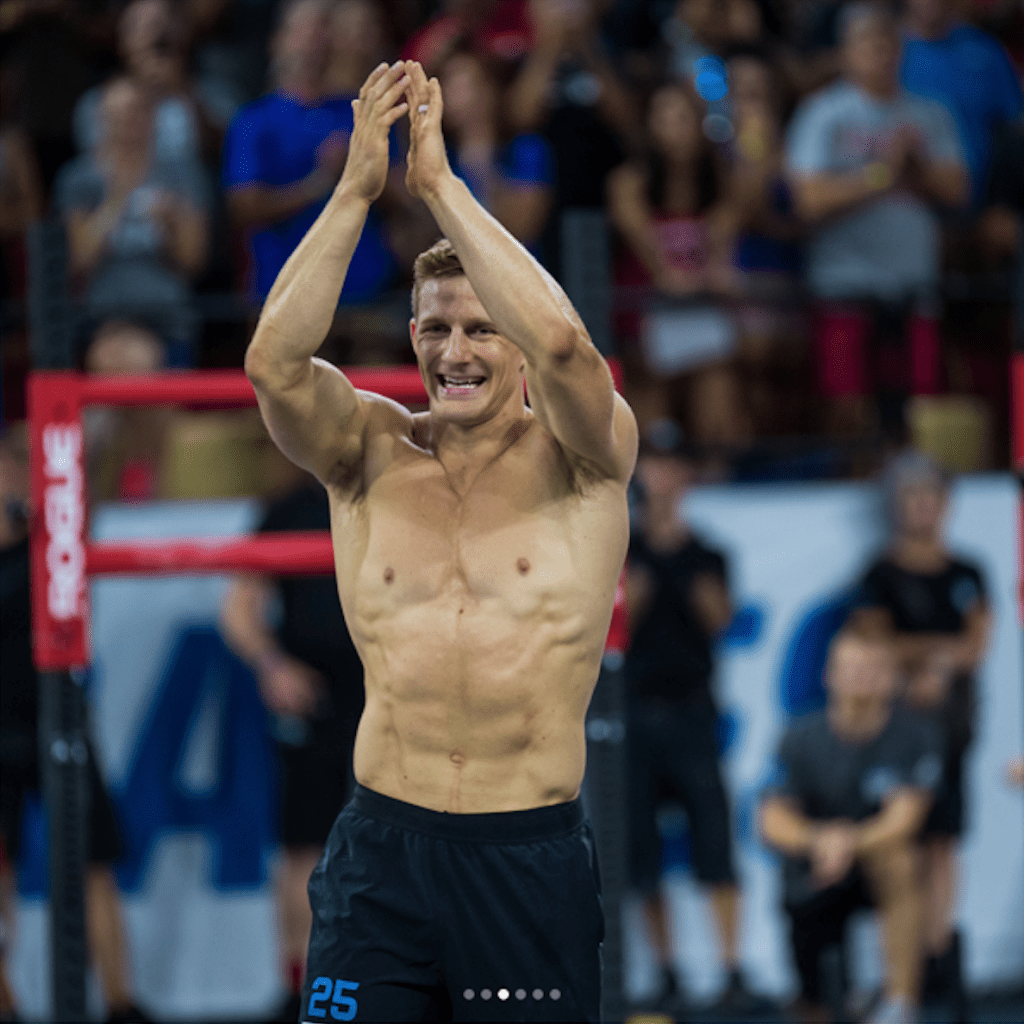 Well, the 2018 Reebok CrossFit Games are officially over and in the history books, so to speak. However, I'll write this blog as if none of you know the results yet and leave that for the end. I'm here to recap the final day of competition, Day 5 on Sunday August 5.
I woke up after a good sleep to arrive at the venue at 8:10 am to prepare for the first event called Two Stroke Pull. We had an event briefing and were told there may be delays due to weather. There had been some thundershowers and they didn't want anyone on the field to have any risk of getting struck by lightning. There were some jokes made about the size of the large metal Zeus rig as a quality electronic conductor.
I had a bit of time to warm up and make sure my body was feeling good for what would be a very tough event. Last year on Sunday morning we had an event called the Madison Triplet which was a similar five round event, primarily involving running and burpees. This year, it was five rounds of run 300 meters, bike 20 calories on the Assault Airbike and pull a sled hand over hand for 20 or so meters. I thought this was a very, very good event for me. I had a definite possibility of coming first. It can be difficult on events like these to have specific pacing strategies as you don't know exactly what pace you can realistically run or how heavy the sled will feel when you're on the competition floor.
We were able to watch the first heat of men compete and ask them how it went. After talking to a few individuals, my coach and I decided on a strategy which was to run with a bit of speed but mostly use it as a recovery, ensure I hopped straight on the bike and hold approximately 500 watts which would complete 20 calories in around one minute. The goal was to gradually increase the pace on the bike throughout the workout if possible. Once the calories were finished I wanted to jump off quickly, run briskly to the sled, and pull it as fast as I could. The sled would likely be the one place in the race that your heart would be the lowest and you'd only be worried about the fatigue and the grip in your arms. It was important to get to that movement quickly. This was a strategy I was able to implement.
The second part to this strategy definitely involved keeping an eye on my competitors. For most of the weekend, I didn't focus too much on the rest of my competitors in my heat, or other heats and their times. I use it roughly as a gauge of what's possible in certain events, however, I primarily focus on my own performance.
On the last day of competition, I usually ask my coach "what do I need to know?" in regards to my placing. Before this event, he said that I should definitely keep my eye on a few competitors around me in the placings, and if possible make efforts to get ahead of them on the leaderboard. These athletes included Mathew Fraser, Patrick Vellner, Lukas Hogberg, Cole Sager, and Bjorgvin Karl Gudmundsson. All of which we both believed had opportunities to do well in this event due to their strengths and their fitness levels, but also they were close to me in the points standings. If I could place ahead of them, it would be strategically beneficial.
I could tell after the first few rounds I was going to be able to hold a pace that Vellner, Sager, Gudmundsson and Fraser could not match. I knew I could hold them off on the bike, however, it was difficult to tell on the run where they were as they were always behind me. Mentally, I had to continue pushing on that short run imagining they were right on my heels and gaining on me.
After I think round two, I spotted Hogberg, quite a distance ahead of me and in the lead of all the competitors. The distance he had already gained on the first few rounds made me very aware that I could probably not close that gap unless his pace drastically slowed. I continued to keep an eye on him, but if I was to risk chasing the large distance he acquired I would likely fall more places than climb one. One the last bike, I was very exhausted. However, I jumped on and kicked up the speed higher than the previous rounds for a good seven calories at which the next athlete made it onto the bike, Mathew Fraser. I matched his stroke count for a few pulls and kept an eye on him to make sure he wasn't able to make a massive last minute push on the bike to overtake me. I ran down the field as fast as I could (which likely wasn't very fast), pulled the sled to the finish, and crossed the finish line. I was very happy with my effort and my time on this event. I immediately set my sights on recovering and preparing for whatever we had next.
I spent a lot of time after this event opening up my shoulders and relaxing my triceps as I likely knew we'd be doing some sort of Handstand Walk as it had not yet appeared in the competition. All the athletes knew that heavy Double Unders would be coming as we already sized our ropes earlier in the week, along with Peg Boards as we had not yet used that implement. We were mostly expecting some heavy Thrusters and possibly GHD Sit Up's as well. We had a bit of time to hang out, and then we went into the stadium as Dave Castro announced the final events.
The first was a Handstand Walk obstacle course which started with a buy in of 50 heavy Double Unders. There were four main obstacles. The first was zig zagging around pylons which I have done multiple times. The second was up and down a ramp, and then up and down some stairs. These mimicked the obstacles we trained with and competed on at Regionals two months prior. I was quite comfortable on both of those. Then they announced we could like up a ramp, walk across two wooden parallet beams for maybe down two meters, then down a ramp. I was very excited by this as most athletes said they had never tried it. In fact, I had walked on parallets like that a couple times in the last couple of months. I'd anticipated the Handstand Walk would be brought to a new level again at the CrossFit Games. This was one logical next step I had predicted. It's very rare when you make predictions like that, that they pay off. I was quite excited by the opportunity to potentially show the hard work that I had put in and the fact I had lucked out on my guess (so to speak). In the warm up area, my handstands felt quite good. Again, we devised a strategy to do the first two obstacles in a row unbroken as long as it felt good. Take adequate time to rest, then hopefully complete the next two with some speed. I got onto the floor feeling good, performed the 50 Double Under's unbroken, as fast as possible and immediately kicked up on my hands. As I kicked up I saw Vellner receive a no rep as I believe his hands crossed the line. This gave me a little boost of energy as I knew this would be a strong event for Vellner and it was nice to have an advantage for a short while on him. The first two obstacles went quite well, my arms were probably a little more fatigued than they were when we did this obstacle at Regionals. They did feel quite stable overhead. I dropped down after the ramp, rested a short while, and started to attack the staircase. This is where things started to go a little south unfortunately.
The first time I attempted the staircase, it felt quite good. However, I caught a finger or two under my palm. Trying to readjust, I lost my balance. I rested, attempted to correct the error but didn't put enough forward momentum and found myself going up and down the stairs once or twice instead of continually over the obstacle. This type of error correction, new error scenario just seemed to happen over and over as I could hear other competitors cross to the finish mat. I didn't let it stress me out as I rested each time what I thought was an adequate amount, and stayed relax mentally. Once or twice I looked over and saw Lukas Hogberg and Patrick Vellner in similar situations. I smiled a bit internally thinking, "you know this is really quite important," haha. In this sort of situation, there's nothing you can really do other than your best and hope the chips fall where they need to on the leaderboard. Eventually, I did make it over the staircase. Definitely took far more attempts than I hoped, anticipated or felt I was capable of. Again, I rested for the parallets. The first attempt it went quite well, however in the center the beams bounced a little bit and my shoulders caved in slightly – causing me to lose my balance. On the next attempt, I realized the clock was nearly running out. I couldn't believe how fast the four minutes had elapsed. I took a deep breath and thought to myself "you definitely need to make it onto this last one, you need to push as tall as possible through your shoulders to ensure that any give in the implement will not cause you to fall." I was able to finish the event just under the time cap. Took a deep sigh, and was immediately quite disappointed as both Vellner and Hogberg had both beat me on that event; the two athletes that were the most important for me to try and catch. I thought in that moment "this will definitely be one of the lowest finishes this weekend for you" and a moment I could potentially look back on with quite a bit of regret once everything had shaken out after the final event.
I was interviewed briefly by one of the camera men on the floor as said "I'm quite disappointed right now, so I'll spend another 10 minutes or so moping and then I'll reset to focus on the final event which I know will be very good for me." I did just that, and I began visualizing myself crossing the finish like with the yoke, first in my lane and celebrating on the finish mat. This thought gave me a lot of joy and excitement for the opportunity that was presented to me.
I had some time to rest and refuel. I talked to my coach and asked if I should know where I stand on the leaderboard. He said yes, that it was probably a good idea. We saw that Mat Fraser was likely locked in for first, Vellner likely locked in for second place position, in third was Lukas Hogberg. I was 34 points behind him. 20 or so points behind me was Bjorgvin Karl Gudmundsson and then another 50 or so was Willy Georges. This is a very similar situation I was in two years ago at the 2016 Reebok CrossFit Games. I was a few points behind Patrick Vellner and had an opportunity to push in the final event which involved Thrusters and Peg Boards to potentially claim a bronze medal. Below me were a few athletes although on that year we decided: Let's really go for it on this final event, and potentially make it on the podium. If things go terrible, you might slip into fifth but at least we tried to get a medal. I think the difference between fourth and fifth is nominal and worth the risk. This was the same decision we made this year.
The event was five ascents up and down a peg board. 40 Thrusters, and carry a heavy yoke across the floor to the finish mat. We decided to try to do the peg boards unbroken, however I would still have to listen to my body. If it came to a point that it obviously was not a good idea I would take a rest at the bottom. The Thrusters we definitely needed to do unbroken, focusing on using the arm at the top of the push so I could save the legs on the Yoke Walk. On the yoke, I needed to cover distance as fast as I possibly could. Yoke Walks are a strength of mine and something we work on quite often. I knew the weights would likely not challenge me too much. I was very excited for the opportunity I had to push for a third place position. I wasn't very nervous, just like I wasn't very nervous for any of the other events over the weekend, besides, perhaps, the Speed Clean Ladder where the margin for error in that event is so low; or the Crit where the possibility of crashing was a little higher than I would have liked.
We took the floor, I took a few deep breaths and forced myself to smile for a few seconds as these are the moments you train for all year. Obviously, you want that feeling of joy as you cross the finish line and are crowned The Fittest on Earth. However, it's these little moments and opportunities in sport that can define you as an athlete based on your effort in situations where your best is required.
The buzzer went and I began to ascend the Peg Board. I could only see two athletes in my peripherals to my left, Patrick Vellner and Mat Fraser. Hogberg was a little too far away to see his pace on the Peg Board. I could tell that Mat Fraser was moving quite quickly and could hold a pace on the Peg Board that I could not match. However, I felt quite good climbing up and down. After my third ascent I realized I would have to take a short break. I climbed for my fourth, another short break, briefly looked back and could see Hogberg resting for what seemed like a longer period of time than I was. This invigorated me and I jumped up for the fifth Peg Board, knowing I was quite fatigued but knowing I would not fail. I had to take a few pauses to ensure my pegs would not slip out of the hole but I did make it on my fifth and immediately jumped down to the barbell to start my Thrusters.
Vellner was slightly ahead of me after the Peg Board, however my haste to pick up the barbell closed a bit of that gap. I could hear his judge counting his reps and I may have been approximately seven reps behind. I think he dropped it once, which again that gave me energy as I attempted to speed up my cycle rate. Thrusters have never been a strength of mine, and I wanted to prove all the work I'd put in and tried to increase my cycle speed even though the distance I had to cover is quite far. After I finished 20, I had another boost of energy. I could hear other athletes starting to prepare for the yoke as the announcers called their name. I looked at my yoke as I completed my Thrusters and started to imagine myself pushing it down the floor faster than anyone else. I finished the 40th Thruster and immediately put my shoulders under the yoke and started walking. It felt quite light. I stopped a third of the way to put on more weight and try to have laser focus as I placed the plates on each of the four legs as fast and efficiently as possible. Apparently, at this stage one of Vellner's plates he threw back to the rear of the yoke and it started to roll away causing him to chase after it and lose pace with me. I didn't see this occur, however, I did notice he fell behind my pace and I could no longer see anyone else around me other than the finish line. The next yoke section was quite easy so I put on the next plates as quickly as I could. I took no break, again, putting the yoke on my back and beginning my stride towards the finish line. This one was significantly heavier than the last, the 100 lbs jump definitely made a difference. However, when I needed a small break I'd only take a breath and again move it as many feet as I could.
Pushing to the point of failure, but my coach and I believed this would be quicker than doing longer sections unbroken and taking big rests to recharge. I crossed the finish line and celebrated knowing in that moment I did everything I could to try and catch Lukas Hogberg for a bronze medal. This feeling was exhilarating and I was proud I could end my season on that note. I then looked back and saw Vellner finished behind me and saw Hogberg was quite a ways down the floor. As he finished up, he was around 45 seconds to a minute behind my time. There were a few athletes between myself and him in our heat that would help with the point separation. I knew in other heats there were a few athletes that placed between us as well. I looked up at my father in the stands asking him with my eyes if he knew what place I came in as he typically does the math on these events on the fly. He smiled and waved his hands not showing to me it would be very close and not knowing which one of us would take it. I smiled and gave him the thumbs up. I went over to Lukas, hugged him and said congratulations. He immediately said "oh why, did I get bronze?" with excitement. I laughed and said, "no, I don't know yet Lukas, but I wanted to say congratulations on a great weekend and it was an honor to fight alongside of you and both of us to have this cool opportunity. Either way you should be happy with how things went and it's been a lot of fun this week." He thanked me. You could tell he had not been in this situation like I had two years prior as he was quite overcome with a variety of emotions. Excitement, anticipation and a little bit of worry. I probably felt a little more calm than he looked. I continued to go through the other competitors. I congratulated Patrick Vellner on his second place finish as well as Fraser on his first. In moments like these I typically have learned to expect the worst and be surprised and happy if the best news is delivered. I think this is usually a wise choice to potentially lessen the blow of the news that you might have placed fourth. Therefor, in that moment, I was already content with the likely reality that I was fourth as I wrapped my mind around how the weekend unfolded. Dave Castro announced that Mathew Fraser was in first. As they interviewed him, the athletes were walking around. Some of us thought we might get to leave. I asked one of the head judges "are they going to announce who is second or third? I'm kind of interested." They said "yes, they are still calculating it. It's very close."
Dave Castro did eventually go back to the microphone and announce that Patrick Vellner was in second and then said, "in third, we had a very close race and we have a tie."
In a split second, I remember the ruling that in a points tie, the individual who has the highest event ranks throughout the weekend will win the tie break. I remember I had not won any events and that Lukas Hogberg had one the Two Stroke Pull in the morning. I smiled and was at peace. I looked over at Vellner and we briefly discussed this. Hogberg, however, you could tell was still unsure of what the ruling would be. Dave Castro then said, "the one athlete in the tie is Lukas Hogberg," Hogberg then started cheering and celebrating as though he had won. In the chaos and the volume of the stadium I suppose he was a little confused. Castro said "No Lukas, no. We haven't announced the winner yet, you're only tied." He laughed, apologized many times and went down onto the floor next to Castro. Castro then called me down. I said to Castro "I already know I lost the tie break," he smiled and said "yes, but they don't" referring to the crowd. I said "oh, good call" so I continued to put on a face as though I was awaiting the decision to make the moment a little more memorable for the crowd but also for Lukas. Castro did a similar style announcement that you may see at a prize fight as the two athletes stood on either side of him. He announced that Lukas Hogberg was the champion. Lukas was overjoyed and I apaulded him for it. One of the reasons I try to approach these moments with some humble maturity is I have been in situations where I've won things I'm very proud of and when athletes below me have been extremely bitter about their performance it can be hard to truly celebrate. It's not fair for me to put that kind of burden on Hogberg who clearly worked very hard after not qualifying for last years' Games. To not only qualify this year, but find a way to put himself on a podium; I was happy for him as you could see the joy was very real.
We watched the ceremonies as the winners were announced for each event. I was able to spend a bit of time talking to a few rookies such as Mitchel Stevenson and the two Latin American athletes, Brenda Castro and Pablo Chalfun, gave them some words of advice on their first year and how they enjoyed the competition. I could tell a few times over the weekend they seemed overwhelmed and over their heads as they've spent most of their time training and preparing for Regionals, the Games can very much feel like a completely different beast. After the awards ceremony I tried to leave quickly to see my family who I had not spent any time with the entire week they were here, cheering me on. That night we were able to have a nice dinner and later I went out to have some drinks with a few of the athletes. I intentionally put my post on Instagram fairly quick in hopes that the quickness in which I posted the photo would allow for maximum reach. Not really from a publicity stand point, but more so so people could truly be happy for and enjoy Lukas Hogberg's moment as well as potentially stave off a year or more of potential questioning from friends, fans, interviewers, alike, on. "Are you bitter about this placing? How do you feel?" I truly did feel the words in that post, although sometimes it can be hard. Even today I woke up finding myself thinking of little moments throughout the weekend I maybe could have changed which would have resulted in a podium finish. However, it's not fair to the hard work that I put in and those split second decisions I had to make in the heat of competition to try and go back and change them. Especially because if I'm allowed to change one of those moments where I made mistakes, an athlete like Lukas Hogberg could go back as well, change some mistake he made throughout the weekend, and we'd be back in a tie.
I'm very excited for the next chapter of my life. The exciting thing with moments like these which I've experienced before is the knowledge that I get to write how things happen after this. Knowing that this is likely far from the end, my story in this sport is exciting and I feel like I this could be my best off-season yet.
Overall, I'm very happy with my performance this weekend. After talking to many other athletes I think the way the programming was done allowed for all of us to make a few more mistakes than we typically do in competition which allowed for an exciting weekend for the fans, and a weekend of high and lows for the athletes. I felt I rode those as maturely as possible and certainly learned a lot. It added a lot of things that needed to be worked on. A few of my weaknesses were exposed in new ways this weekend that I'm excited to try to improve upon over the next few months.
It's amazing that all year you prepare for this event. While you're here, it can be hard to even enjoy it as you're so busy trying to preparing for the next moment, and the next moment. Now that it's gone, it's this bizarre feeling. I'm glad that I was able to do these blog posts as I'm sure one day I'll go back and read them myself and be able to remember these moments, hopefully quite vividly because it's those small moments in competition that are the real treats and rewards throughout the season as much as any overall placing. Moments like in the Crit as I heard Ben Smith yell for our chase pack to catch the leaders, the feeling of joy when I hit a PR in the CrossFit Total, conversations we had on the rower during the Marathon Row, and even the sound of your competition as they run beside you as you try to gauge their energy levels and they try to read how you're feeling. Those small moments are so cool and cannot be replicated anywhere else. I'm happy to have a longer list of them now that the weekend is over and I'm happy to have the opportunity to work towards more of them this year as I again plan to train for the 2019 Reebok CrossFit Games.
Thanks everyone for reading, I'm sure I'll have more thoughts on here in the coming weeks and days.
All the best,
Brent Fikowski.